Unleashing the AI Magic in Adobe Firefly and Express for Exceptional Digital Experiences
Adobe, a renowned American company recognized for its multimedia and creative software solutions, introduces its newest products integrated with AI features during the VST ECS CXO Tech Summit 2023.
Mr. Nelson John, Principal Solutions Consultant for Digital Media at Adobe Southeast Asia, is the guest speaker presenting on the subject of "Revealing the Future of Exceptional Digital Experiences through AI."
Mr. John emphasizes the rapid evolution of the AI landscape, highlighting its crucial role in optimizing the customer experience as a key business requirement within organizations for a swift and efficient production.
Mr. Nelson John, Principal Solutions Consultant for Digital Media at Adobe Southeast Asia
In a recent survey conducted by Adobe with 13,000 consumers and 4,250 customer experience and marketing professionals across 13 countries. "89% of marketing and customer experiences leaders believe generative Ai will help them better personalize customer experiences." 
In an April 2023 report by IDC, "42% of generative AI survey responder worldwide anticipate Marketing Applications as having the most promise for their organization."
"By 2026, AI-driven feature will be embedded across business technology categories, and 60% of organizations will actively use such features to drive better outcomes without relying on technical AI talent" from IDC Futurescape October 2022 report.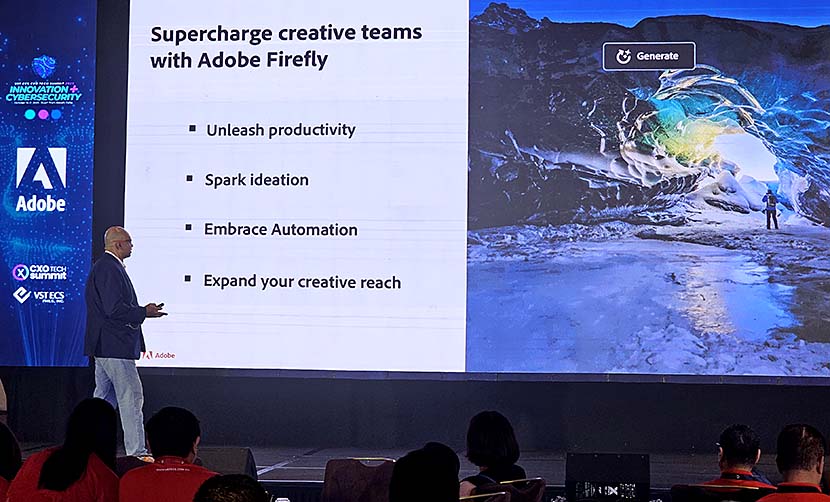 Adobe is not new to AI as it has started introducing the feature with Adobe Sensei adding an intelligence layer and intelligent services to the Adobe Cloud Platform.
At the conference, Adobe offers two new products with an AI generative feature with Adobe Firefly and Adobe Express a cloud-based media creation application.
Adobe Firefly
Adobe Firefly is a standalone web application with generative AI features that allows users to generate images, text, and other creative assets using text prompts. It has already been used by creative professionals to create everything from product designs to marketing materials that leverages creative people to be more productive and to explore new ideas.
The advantage of the generative AI produced by Adobe Firefly, whether images or text, is its commercial safety. Firefly is accessible in Adobe Express, as a web app, and available in several Creative Cloud apps in Photoshop and Illustrator.
With its generative AI-powered tools of the Adobe Firefly users can do the following features:
Text-to-Image – User can generate the image that it needs with a simple or detailed text description.
Generative Fill – A cutting-edge feature employing machine learning AI for swift manipulation, addition, or removal of image elements.
Text Effects – Add a textprompt describing the style you wish to create on the text and the AI will automatically render it that way.
Vector Recoloring – Effortlessly transform your vector generated AI images with vivid color palettes by either entering detailed text descriptions or use a drop-down menu.
Extend Image – It can turn your 1:1 aspect ratio image size into a 16:9 widescreen image or any specified size you need. The AI will automatically fill and extend the image until it reached the necessary size.
Adobe Firefly has a free plan giving users up to 25 monthly generative credits and a premium plan at PHP249 per month with 100 monthly generative credits.
Adobe Express
Adobe Express is an all-in-one design application that makes it easy for anyone to create impressive social media graphics, marketing collaterals, promotional videos, and more. It makes content creation easy and fast.
A notable feature of Adobe Express is its accessibility, allowing users to utilize it from any device with internet connectivity.
Adobe Express grants users access to a vast collection of templates, providing seamless editing options such as design modification, image incorporation, resizing, and more.
With Adobe's new generative AI feature it emerges as a groundbreaking solution, ushering in a new era of creativity, productivity and cost-efficiency. Its ability to swiftly manipulate and generate content demonstrates the transformative power of artificial intelligence in the creative process.
Adobe Firefly stands as a testament to the incredible possibilities that arise when cutting-edge technology meets the world of artistic expression.
Whether in image editing, content creation, or visual storytelling, Adobe's new generative AI technology integrated into their products will open doors to unparalleled innovation, offering users a seamless and inspiring experience at the intersection of design and generative AI.
For more information, visit https://www.adobe.com/ph_en/sensei/generative-ai/firefly.html