As the pandemic has caused a lot of people to change their normal ways, it also gave them a lot of time for a wide variety of activities especially on their TVs. Aside from their smartphones people want to stay connected on their TV doing multiple functions from video online work conference, online schooling or watching their favorite shows and movies via online streaming services.
These consumers are now looking for a Smart TV to perform such tasks equipped with the latest technology and to experience a next level of entertainment. Good thing that XTREME Appliances offers their new XTREME S Series models from 65-inch to 32-inch display panels.
For our review we have the XTREME 49-inch MF-4900s Smart LED TV with a built-in SoundBar, Wi-Fi connectivity and a very reasonable price for only PHP22,995 available online and authorized appliance stores nationwide.
CONTENTS AND ACCESSORIES
Packaging of the MF-4900s is tailor-made to fit only the LED TV and its accessories with the material made from high-quality corrugated box. It has a simple white design with the highlighted features and product images as well.
Taking out the contents we have the following:
XTREME MF-4900s

Two Remote Controls

Power Cable

5mm Mini AV to Three RCA Audio Video Cable

Metal Stand

User Manual

Warranty Card

Screws
BUILD, DESIGN AND DISPLAY
First thing we noticed is the sleek design with an ultra-thin slim bezel from the top and its sides, looking at the front bezels it measures around 0.25 inches. The all-around bezels and the stands are made of metal in metallic silver finish while the back casing as well as the cover of the sound bar are built of polycarbonate material.
The XTREME MF-4900s has an immersive 49-inch 4K IPS display panel with ultra-high definition picture quality with available picture presets ranging from dynamic, standard, natural, stadium, movie and personal. It has a resolution of 3840 x 2160 pixels.
The 4K IPS display also gets a nice view in any multiple angle with consistent picture color and quality as well.
Overall the quality of the display offers a nice color with the right quantity of saturation. The contrast is decent enough but lacks on getting deeper blacks, but you can set the picture quality to either stadium or movie to get the same effect.
PERFORMANCE, SOFTWARE AND APPS
This Smart LED TV runs on a Linux-based OS with a clean user interface that lets you connect to the internet effortlessly and easy to navigate especially using the remote control.
It is equipped with a 1.0GHz CA9 processor, Mali-400 GPU, 1GB memory and an internal 4GB storage that you can either add, download or transfer some additional apps, music, images or videos that you like.
Some of the best pre-installed streaming entertainment services are ready to use such as YouTube and Netflix plus other extra apps like Radioline, iFood.TV, ABS-CBN News, Happy Kids, FilmBox Live and even has its own app store.
Menu settings, Picture, and Sound presets
Quick acces to web browser thru a dedicated button on the standard remote control
PREMIUM AUDIO QUALITY BY PURE SOUND
The MF-4900s Smart TV has a nice built-in sound bar with two 12-watt front-firing speakers by Pure Sound unlike the sound from other LED TV's are coming from the bottom or sides. With the sound coming from the front it ensures us a crisper and impactful sound especially from making voices sound clear.
This Smart LED TV also has an array of optional sound features including an audio delay, automatic audio level and various sound presets which you can choose from movie, standard, personal, music, news, and sports.
PORTS AND REMOTE CONTROLS
At the back panel located on the right you can find the port for the power cable while on the left side holds the various TV ports for the user to connect a variety of devices. The available ports are: USB 2.0, LAN, Optical (Out), HDMI 1, HDMI 2, HMDI 3, AV In, Antenna and Line Out.
If you have a GMA Affordabox or a device that needs to plug-in to the AV port, XTREME Appliances included a 3.5mm mini AV to AV cable.
Situated at the bottom left, still at the back panel, housed a built-in dedicated TV navigation controls that you can use in case you've lost or couldn't find the remote control. You can have it power on/off the TV, go to menu settings, lower/increase the volume and change the program.
Both each of the controllers uses two AAA batteries, just slide the battery compartment cover of the back to insert them.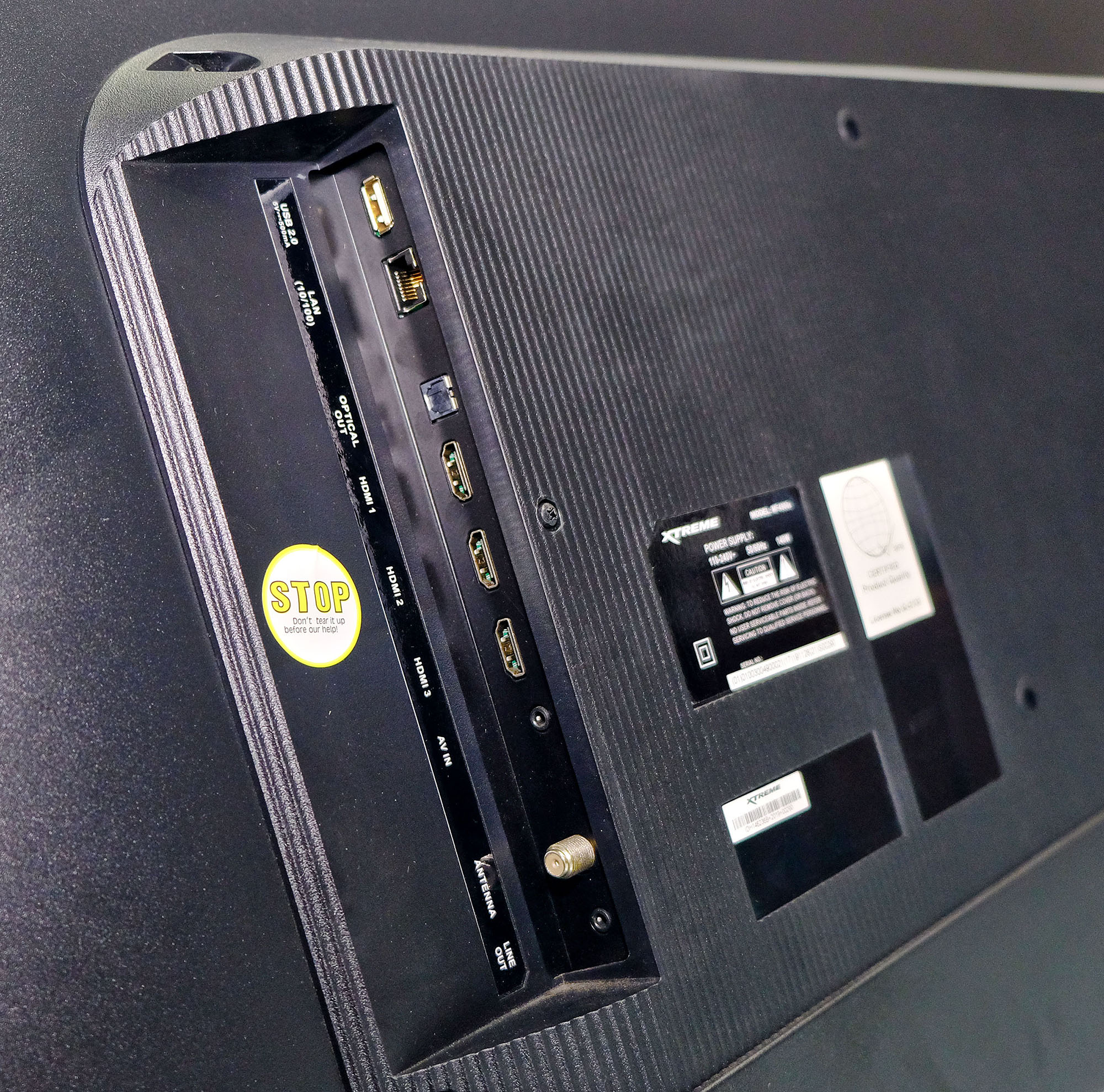 The available ports of the MF-4900s
The MF-900s offers two types of remote controls both made of a durable polycarbonate material in a black matte finish with the buttons made of rubber. Checking out each of the remote controls, as you can already see in the photos, the longer one is the standard remote control while the media remote control has fewer control buttons for multimedia access or easily navigate any streaming apps.
The standard remote control comprises everything you need to navigate or switch the TV like the menu, volume, channel, picture quality, sound quality and media control buttons. Good thing they placed some dedicated buttons for the YouTube or Netflix app on a white button with its respective logos. While the blue button opens the online web if you need to search a particular website or open your emails.
The media remote control has a fewer set of buttons that offers a one-touch and quick access to your apps, usb, select the TV source, menu settings, volume control and directional buttons. We find it much more useful when we tried it while watching Netflix and YouTube as we can immediately find the buttons we need to navigate and control the app.
Standard remote control with an extra media remote control included in the package
MEDIA SHARING VIA FAST CAST
Aside from its Wi-Fi connectivity feature, the XTREME MF-4900s is equipped with a mirroring or media sharing application mode called FastCast. With the FastCast app you can simply cast or share games, photos, video and applications from your phone, tablet or PC to the large display. Perfect for work presentations, online school or even family gatherings to share those memorable moments.
A unique feature of the FastCast app is the built-in remote control so you can have continuous access with the paired device. There's also a shortcut app button such as Netflix, YouTube etc. but it does not open during our test.
You can simply connect to the FastCast app to your mobile thru the QR Code displayed on the TV
FastCast App has a remote control function
XTREME MF-4900s49-INCH SMART LED TV – FULL SPECIFICATIONS:
Display: 49-inch UHD IPS LED display
Resolution: 3840 x 2160 pixels
Processor: 1.0GHz CA9
Graphics: Mali-400 GPU
Memory: 1GB RAM
Storage: 4GB (internal)
Speakers: 12W+12W down-firing speakers with Dolby MS12
TV Signal: Digital, Analog TV systems
Connectivity/Ports: Wi-Fi, LAN, USB 2.0, optical cable, 3x HDMI ports, AV-IN, Antenna, Line Out
OS: Linux OS
Power Supply: 100-240V/50-60Hz
Warranty: 2 years warranty on panel, parts, and service
Price: 49-inch PHP22,995
Other Available Sizes: 65-inch PHP39,995 • 55-inch PHP26,995 • 43-inch PHP15,995 • 32-inch PHP9,995
CONCLUSION
One of the best affordable Smart LED TV in the market today, for just PHP24,990 you're getting an assortment of features like its 49-inch IPS ultra-high definition display, ultra-slim design, sound quality, Wi-Fi, and more. XTREME Appliances is getting your money's worth with a product that has good value and quality you can count on.
WHAT WE LIKE
IPS display offers nice viewing angles

Picture quality and decent color saturation

Ultra-slim design

12-watts front-facing speakers by Pure Sound

FastCast media sharing app

Attractive price

Standard remote control with Netflix and YouTube buttons

Extra media remote control for quick access to multimedia functions

Navigation buttons

Pre-installed apps

Wi-Fi connectivity
WHAT WE WISH
Additional USB

More internal storage

Remote control pointer
---
For more information you may visit XTREME Appliances social media sites: Facebook, Twitter, Instagram, TikTok and YouTube accounts. For a full list of products or to purchase please visit them on Lazada, Shopee and www.xtreme.com.ph