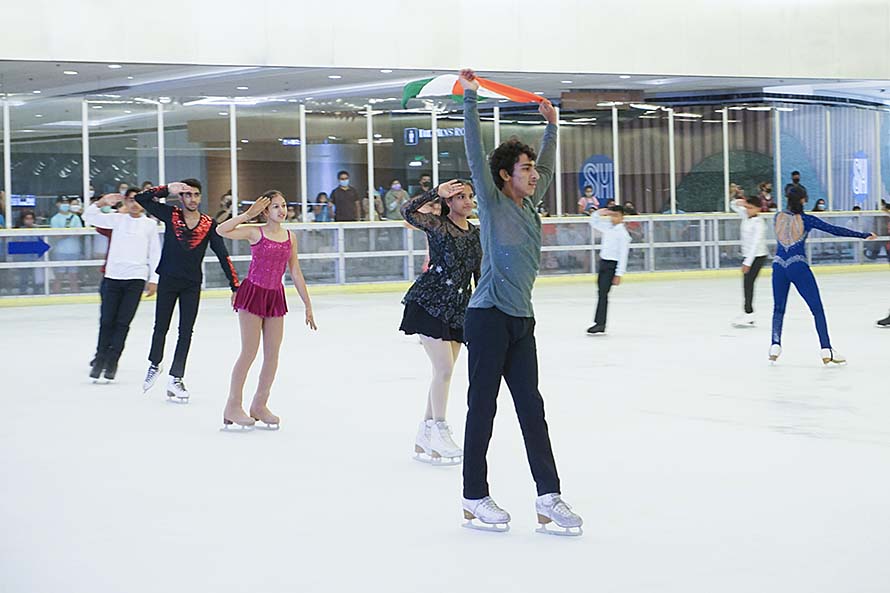 To some, ice skating is a recreational activity. It is commonly seen as a way to destress and keep cool in a warm country like the Philippines. But for young and upcoming figure skaters, it is a sport that demands serious training.
For Cebuana figure skater Erphy Mackenzie, the sport is both a fun and a challenging experience. "Stepping on the ice rink gets me really hyped up. It helped me develop discipline and focus to achieve my dreams"  said the 7-year-old ice skating wonder who brought home 6 gold medals at the recently concluded Skate Asia 2022 held in Malaysia.
Mackenzie was among the 24 young athletes who joined the Ice Skating Developmental Camp in SM Megamall. Organized by the Ice Skating Association of India (ISAI) in collaboration with the International Skating Union (ISU) and the Philippine Skating Union (PHSU), the 11-day camp started last August 18, 2022, and culminated on August 29, 2022.
The camp was facilitated by Mr. Artyem Kynazev, ISU Technical Specialist, and engaged the young athletes in a mix of on-ice and off-ice training. The camp also featured lectures from an International Skating Judge from Malaysia, Ms. Surayu Ismail, and sessions on sports nutrition and mental training from Dr. Kim Montaniel.
Mr. Hans T. Sy, Chairman of the Executive Committee of SM Prime Holdings, Inc. (fourth from left) with His Excellency Mr. Shambu S. Kumaran, Ambassador of India to the Philippines (fourth from right), with other distinguished guests from the Ice Skating Association of India, International Skating Union Development Commission, Philippine Skating Union, SM Supermalls, and EDSA Shangri-la Hotel at the culminating program of the ISAI-hosted Figure Skating Development Camp held at SM Skating Megamall last August 29, 2022.
"In tropical countries like the Philippines where access to ice forms is very limited, it is an honor for SM Supermalls to provide athletes a training ground in our ice skating rinks. In the last 11 days, I am happy that we were able to share these with our young skaters from India who along with their Filipino counterparts had the honor to be mentored by figure skating Olympian, Mr. Artyem Kynazev," said Mr. Hans T. Sy, PHSU Chairman and SM Prime Holding's Chairman of the Executive Committee during the culminating activity held at The Rink in SM Megamall.
During the culminating event, the young figure skaters from the Philippines and their counterparts from India performed a special number where they showcased their learnings from the camp. Donned in their ice skating boots and costumes, the athletes performed a set of movements including jumps, spins, and footwork in a graceful manner.
SM Ice Skating has proven its value to the market by hosting exciting events, providing a venue to promote not only family bonding but foster camaraderie among friends and colleagues. SM Skating rinks are at the SM Mall of Asia, SM Megamall, and SM Seaside Cebu.
SM Skating is the sole ice skating business in the Philippines and is home to the Philippine National Team of Ice Sports in partnership with the PHSU. Services that are offered include basic to advanced skating lessons, skate aid rentals, and assist coaches that are available anytime.
To know more about SM Skating, visit www.smsupermalls.com and follow @SMSupermalls on Facebook, Instagram, Twitter, and YouTube for more updates.
282 total views, 4 views today