Leading fiber broadband provider Converge ICT Solutions Inc. (PSE: CNVRG) is rapidly expanding the availability of fiber connectivity in the Bicol region, targeting to nearly double its port deployment in the southern Luzon region to reach over 400,000 fiber ports by year end. 
"In line with our strategy to Go Deep in existing markets, we are rolling out nearly 200,000 fiber ports in the Bicol region this year. We want to maximize our first mover advantage as a fiber broadband provider in Bicol and expanding to the different provinces," said Jesus C. Romero, Converge Chief Operations Officer. 
The port deployment target is spread among four provinces in Bicol, namely Camarines Sur, Camarines Norte, Albay, and Sorsogon. 
Converge is setting ambitious targets for fiber penetration in Region V aiming to cover more than half of addressable households for the entire Bicol region. 
"These coverage targets mean there will be high availability of fiber service in key markets like the cities of Legazpi and Naga, as well as in unserved and underserved areas, like the municipalities of Gubat in Sorsogon and Lupi in Camarines Norte," added Romero. 
Converge has landed its pure fiber domestic subsea backbone in three points in Bicol – Pasacao in Camarines Sur and in Masbate City, and Milagros in Masbate, completing  the redundancy loop that starts in San Juan, Batangas and passes through Roxas – Mindoro, Boracay, Roxas- Iloilo and ends in Milagros, Masbate.
Knowing the frequency of typhoons in the region, the fiber broadband company has invested heavily in hardening and disaster-proofing its network in Bicol by putting the cables underground.
"Given the importance of the Bicol region to our business, we are strengthening the customer-facing services, as well as the network infrastructure, to shore up the Converge brand in this southern Luzon region," said Romero.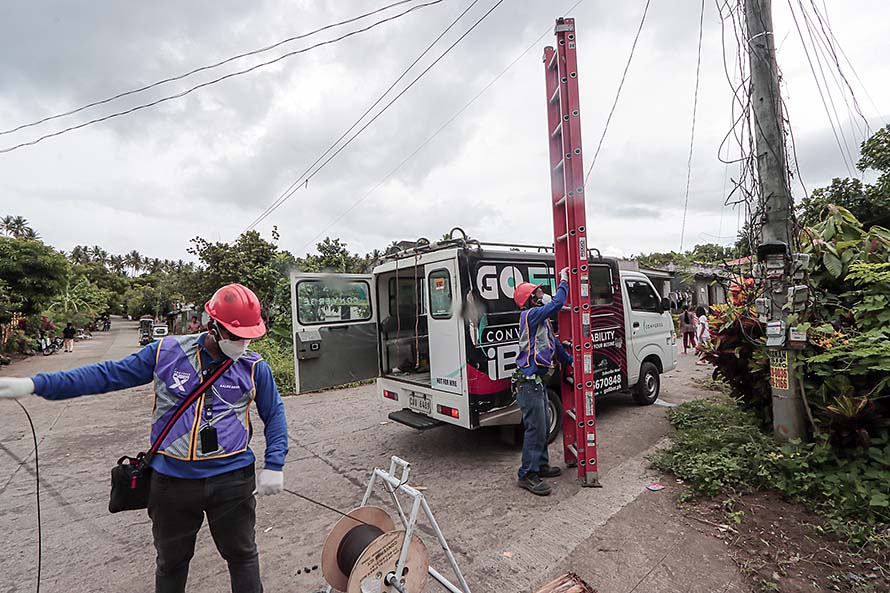 New Business Center
To better serve its customers, Converge has opened its newest business center in Legazpi City. Located in 312 Penaranda Extension, Barangay Bonot, the facility will also be the regional head office for the company. Earlier, it established business centers in the cities of Naga, Daet, Iriga, and Sorsogon. 
Every Converge business center offers sales, payment, and after-sales services, plus a self-service payment kiosk to limit contact.
Dedicated Customer Service
For Bicol subscribers, Converge has put in place a dedicated Customer Support hotline at mobile number 0922-9994636. For Technical concerns: text TECH <space> 13-digit Account Number <space> Message/Concern. For Non-Technical concerns: text INQ <space> 13-digit account number <space> Message/Concern.
Converge has allocated ample installation and repair teams on-ground to handle current demand and future growth in the Bicol region. In fact, 96% of customer tickets are responded to within 24 hours.
To date, Converge has over 500,000 kilometers of total fiber assets serving 1.8 million subscribers nationwide. Its network has reached more than 12 million homes as of the first quarter of the year, with a household coverage of 47%. This year, the company continues to be in expansion mode with its fiber network being extended to more cities and municipalities in Visayas and Mindanao. 
For more information on Converge, log-on to www.convergeict.com.