With the arrival of 2022, according to the Chinese horoscope this will be the Year of the Tiger the third animal of the Chinese zodiac. To welcome the Year of the Tiger Kingston Technology, a world leader in memory products and technology solutions, released its annual limited-edition Mini Tiger USB Flash Drive in the Philippines. It's the perfect New Year's gift for your family, friends or co-worker wishing them prosperity and good luck for 2022.
The Kingston limited-edition Mini Tiger USB drive will be available through its network of retail stores and e-commerce outlets (Shopee / Lazada) with a suggested retail price of PHP 1,099. Starting from December 15 to January 15 customers will also receive Kingston Phone rings with purchase of every Kingston Mini Tiger USB drive. The USB drive is backed by a 5-year warranty, free technical support and legendary Kingston reliability.
Unboxing and Design
The Kingston Mini Tiger USB Flash Drive is encased in a uniquely-designed transparent beverage can packaging made of durable plastic material. You can instantly see the cute adorable tiger, the red and gold packaging label design inside while on the top holds a stainless steel mini ball key chain.
Opening the product is very easy just take off the two transparent tapes found in the middle sides of the packaging. Next, take off the top plastic lid which then lets you take out easily the contents inside.
As you can see you only get the Mini Tiger USB Flash Drive plus probably the label with more info about which OS is compatible to use the flash drive and other than that mostly all constitutes for the packaging.
Checking on the Mini Tiger USB Flash Drive it has this cute ovular-shaped body design which is enclosed in a smooth rubber material for added shock resistant and protecting your stored data.
The USB Flash Drive is located on the tail part of the tiger and taking it out you can see some of the additional gold metallic details up to the USB plug itself. You can also find on the USB plug a Kingston logo and the 64GB printed on it.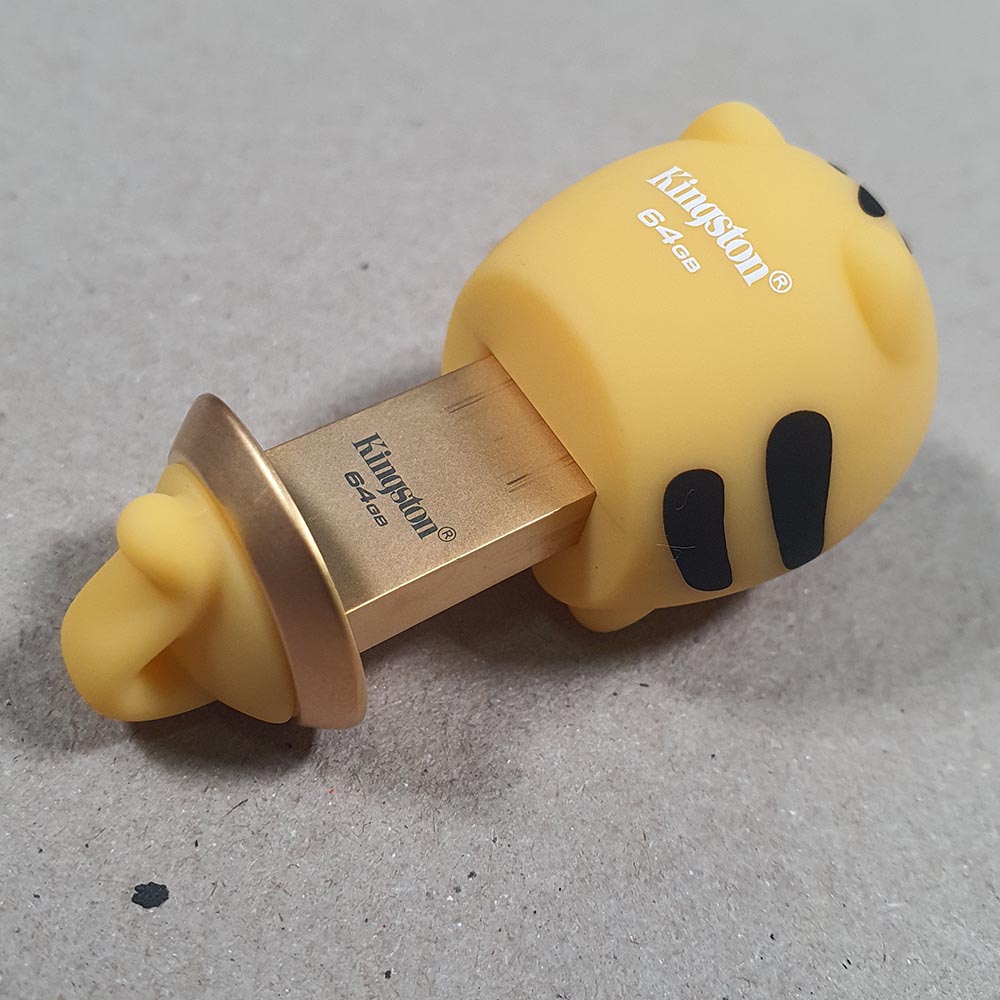 The length of the usb drive is less than 2 inches only.
Performance and Benchmark
The USB Drive offers a large capacity of 64GB storage. You get high speed transfer rates with up to 200MB/s read speed, making it easy to upload videos, music, photographs and files. It is suitable for various Type-A devices, supports USB 3.2 Gen 1 and also compatible with USB 2.0.
Here are our benchmark results:
Using my Apple Macbook Pro Touchbar we opted to measure the storage read and write performance of the Kingston Mini Tiger USB Flash Drive using Amorphous Disk Mark. The transfer read speed goes at a 233.86MB/s which is impressive while the write gets a 54.15MB/s.
We also tried transferring 2.81GB files to the USB drive which took us only 1 minute and 28 seconds to finish it.
For just PHP1,099, the limited-edition Kingston Mini Tiger USB Flash Drive is one ideal must have item to collect as well as a cute perfect gift. Aside from its appealing design, it boasts of a 64GB storage that can store more of your important files for work or personal use. Worry less as your files are secured with its excellent build quality thanks to the rubber material that encased the USB plug inside it plus you are back up with a 5 years warranty on your product.
Full Specifications:
Price: PHP1,099
Capacities: 64GB
Performance: USB 3.2 Gen 11,200MB/s Read
Product size: 41.99mm x 26.79mm x 27.77mm
Package size: 57.82mm x 57.82mm x 103mm
Operating temperature: 0°C~60°C
Storage temperature: -20°C~85°C
Warranty/support: 5-year warranty with free technical support
OS Compatibility: Windows® 10,8.1,8,7 (SP1), Mac OS (v.10.10.x +), Linux (v. 2.6.x +), Chrome OS™