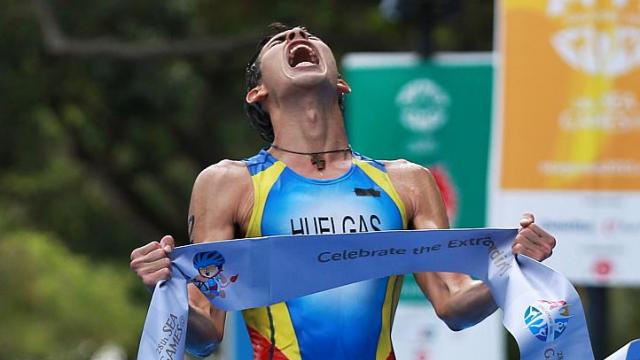 Triathletes lead a busy and demanding life. They balance strenuous training with personal responsibilities at school, work, or at home. They wake up before sunrise to practice for three different sports: cycling, running, and swimming. Their intense daily grind shapes them into physically strong and mentally resilient people.
The country's seasoned athletes aren't strangers to setbacks. They turn failure into fuel for growth and success, no matter how hard they fall. For them, any step taken to get back on track is important. Giving up is not an option.
Overcoming fear, one pedal at a time
Lauren Lim recounts a terrible accident that almost ended her career. "I was biking downhill when the chain suddenly dislodged from the wheel. I lost control, crashed into the bushes, and flew off my bike," recalls the runner. "I lost my glasses and broke my helmet, handlebars, and phone screen. I sustained bruises, scratches, and swollen fingers."
The young athlete admits that she was scared to ride again after the incident, but she was eager to overcome her fears. "My parents wanted me to stop racing, but I was determined to get back to fighting form," she shares. "After my recovery, I pedalled for short distances every day, taking my time until I regained strength and confidence."
The powerlifter-turned-triathlete treats this painful mishap as an important learning experience. "Mistakes and injuries are battle scars that you should be proud of. They shouldn't hold you back; rather, they should challenge and motivate you to become better. Take consistent small steps to reach your objectives and surpass your limitations."
Getting back to the game
When Alexandra Faith Garcia joined Binibining Pilipinas in 2016, she had to postpone training for almost six months. "I felt like a complete beginner when I got back to the sport. It was a difficult phase in my athletic career," shares the Olongapo native. "At that time, I respected the limits of my body. I focused on slowly but constantly building my fitness routine back."
Now that she's back on the circuit, Alex takes on a different approach to practice. "I exercise even if I'm not preparing for a triathlon. I also adjust my expectations for a race, based on how much I train," she says. "It's important to build your physical foundation first before tackling bigger goals. Take your time and don't push yourself too hard."
Fall down seven, get up eight
"A good triathlete knows how to handle losses and let go of stressful things beyond one's control," says Nikko Huelgas. Every time this multi-awarded sportsman loses in an event, he makes up for it with a greater victory.
"A month after losing in the 2011 U23 World Triathlon Championships in Beijing, I placed 7th overall in the Asian Championships," he shares. "When I lost in the 2015 Madrid European Cup, I used that as my motivation to snag the gold medal in the 2015 SEA Games Triathlon. I was the first Filipino to achieve that accolade."
For Nikko, it takes more than physical strength to bounce back from failure. "As a triathlete, you need to be mentally and emotionally tough to succeed. Most of the time, you won't do well in a race, and that's okay. Just remind yourself that there are more opportunities in the future to make a huge comeback."
Gear up for success with Samsung
These inspiring stories of hard work and resiliency motivate Samsung to develop innovations that help people become stronger and better. Committed to keep veteran and newbie athletes in line with their personal goals, the tech giant creates the Gear Sport.
The all-in-one device carries various applications that track your vital signs, provide workout recommendations, and control your diet. It is built for people who want to beat their personal bests and overcome any fitness obstacle.
The Samsung Gear Sport is available in the Philippines at a suggested retail price of PHP 14,990. For more details, you can visit the Samsung Galaxy Studio located at Bonifacio Global City, Taguig or visit our websites, facebook.com/SamsungPH or samsung.com/ph .
2,036 total views, 2 views today