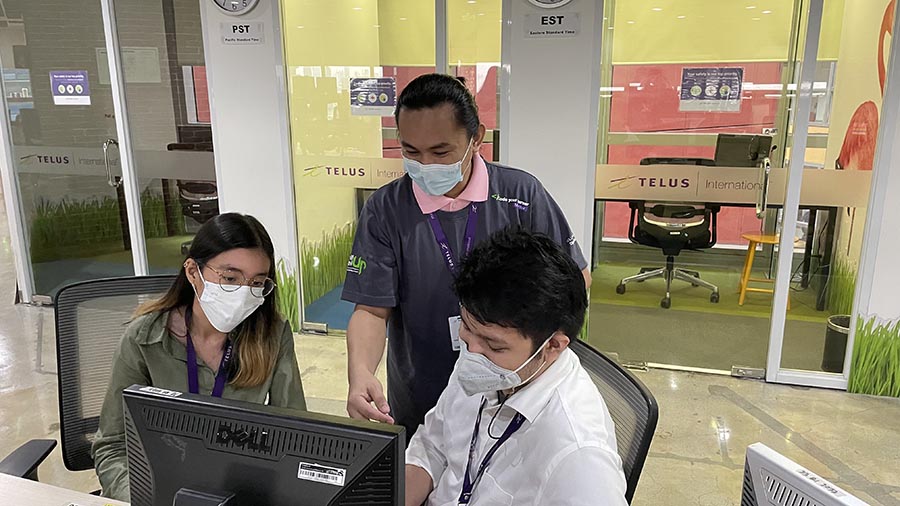 With more companies embracing digital transformations and new digital native businesses blossoming, there is a greater than ever demand for tech talent to sustain business growth and innovation in the digital future.
To help meet this need and fill the tech talent gap, TELUS International Philippines (TIP), a leading provider of digital customer experience and information technology solutions, launched its Digital Solutions Internship Program, Code Your Career, a 12-week course the company started this year to cultivate the next generation of job-ready software engineers, programmers and IT professionals.
In addition to its reputation as a leading customer experience provider, TELUS International Philippines is a digital IT, AI and innovation powerhouse. Since its inception in 2005, the company has grown its expertise and competencies by partnering with and acquiring leading global tech companies, and building its own in-house competencies to provide top global and disruptive brands with digitally-enabled customer experience and next-gen solutions.
TELUS International Philippines began its first cohort of the internship program in February 2022, and it is currently made up of 39 junior and senior college students from various schools across the country, including the University of Santo Tomas, University of the East, Rizal Technological University, the University of Rizal System, Trinity University and Manila Tytana Colleges. Most of these students are pursuing a degree in information technology, cybersecurity, computer science and information systems. Throughout their 12 weeks of the program, the students have learned tech support, IT system analysis, software development, cloud infrastructure, cloud application management, data analysis and cybersecurity, among other skills. They completed the entire program virtually, and they recently met each other and their mentors in person when they attended an onsite meet-and-greet activity held at TELUS Discovery.
To some 73 TELUS International Philippines team members, the Code your Career program is a volunteer initiative as they take on the role of teachers and mentors, working hand in hand with the dedicated trainers hired specifically to support the program.
"It was an incredibly fulfilling experience for me as a Code your Career mentor. Seeing the students continuously grow and improve their skills, and knowing that what we're teaching them will benefit their future careers, has been rewarding," shares Kristoffer Keith Chua, Digital Solutions Business Analyst and Code your Career mentor.
Three unique curriculums
TELUS International Philippines' Code your Career program offers three unique training streams that incorporate mentorship opportunities with tech professionals, job readiness and interview training, a mix of individual and team-based innovation projects—all in the company's fun and vibrant workplaces and caring culture.
Infrastructure development curriculum
Students who enrolled in the infrastructure development and management curriculum were also armed with the necessary skills to engage in digital infrastructure planning, development and maintenance.
Through hands-on experiences, they learned the ropes of cloud management, experienced how to create and configure databases and witnessed the interplay of processes and services in a real life operating system environment—just a few among the marketable tech skills needed for various businesses around the world.
Application development curriculum
Under the application development and support stream, interns were trained to navigate in the Google Cloud platform, and learned to code and apply this skill by participating in app development projects. They were also given sufficient opportunities to observe firsthand how software engineering and quality assurance are delivered to clients through the application of DevOps and Agile practice.
Service desk curriculum
The third stream, service desk, gave students with strong analytical skills and background in software and hardware troubleshooting some practical training and real workplace experience in performing basic troubleshooting and going through the entire process of resolving a trouble ticket.
All three curriculums offered are in response to the accelerated technology and digital transformation not just in the country, but all over the globe, as businesses strive to improve their operations, drive resilience and future-proof their organizations.
"Our internship program plays a vital role in creating opportunities for the Filipino youth to acquire skills in tech and innovation, better equipping them to compete in the job market globally. We arm talented students with the right skills not only to get their foot in the door of a booming industry but to help them advance within the company and take their career to the next level," said Nalakumar RS, Vice-President for Technology at TELUS International Philippines. "Beyond teaching them technical knowledge and business application, the program has a job readiness component, as we prepare them to start looking for jobs and help with outplacement."
Recent studies show that digitalization will bring about unprecedented demand for tech experts particularly in the areas of artificial intelligence, data analytics and IT governance, risk and compliance and emerging technologies.
Creating work-readiness skills
While the internship program equipped students with classroom concepts and technical knowledge needed to forge a career in IT, it also helped build their confidence and readiness to adapt to the world of work by providing training in areas such as creating a portfolio, interview skills and CV writing.
"It was a big opportunity for me as a student to get this chance to learn and onboard in a real world setup in a global tech company like TELUS International Philippines. Our mentors made sure we learned the basic skills needed but they also challenged us, so our confidence grew as our skills improved," said Julia Bongayan, Bachelor of Science in Information Technology student from the University of Sto. Tomas.
"I'm very thankful to our mentors for this experience. Aside from the technical knowledge and skills, they also covered other areas that new IT professionals need such as communication assertiveness, project management, and having the right business attitude," shared Levi Sazon, Information Technology student also from the University of Sto. Tomas.
Both Julia and Levi are among the interns from TELUS International Philippines' Code your Career who completed the program and are now bringing their experience to new roles as part of TELUS International Philippines after they each received job offers from the company.
680 total views, 2 views today