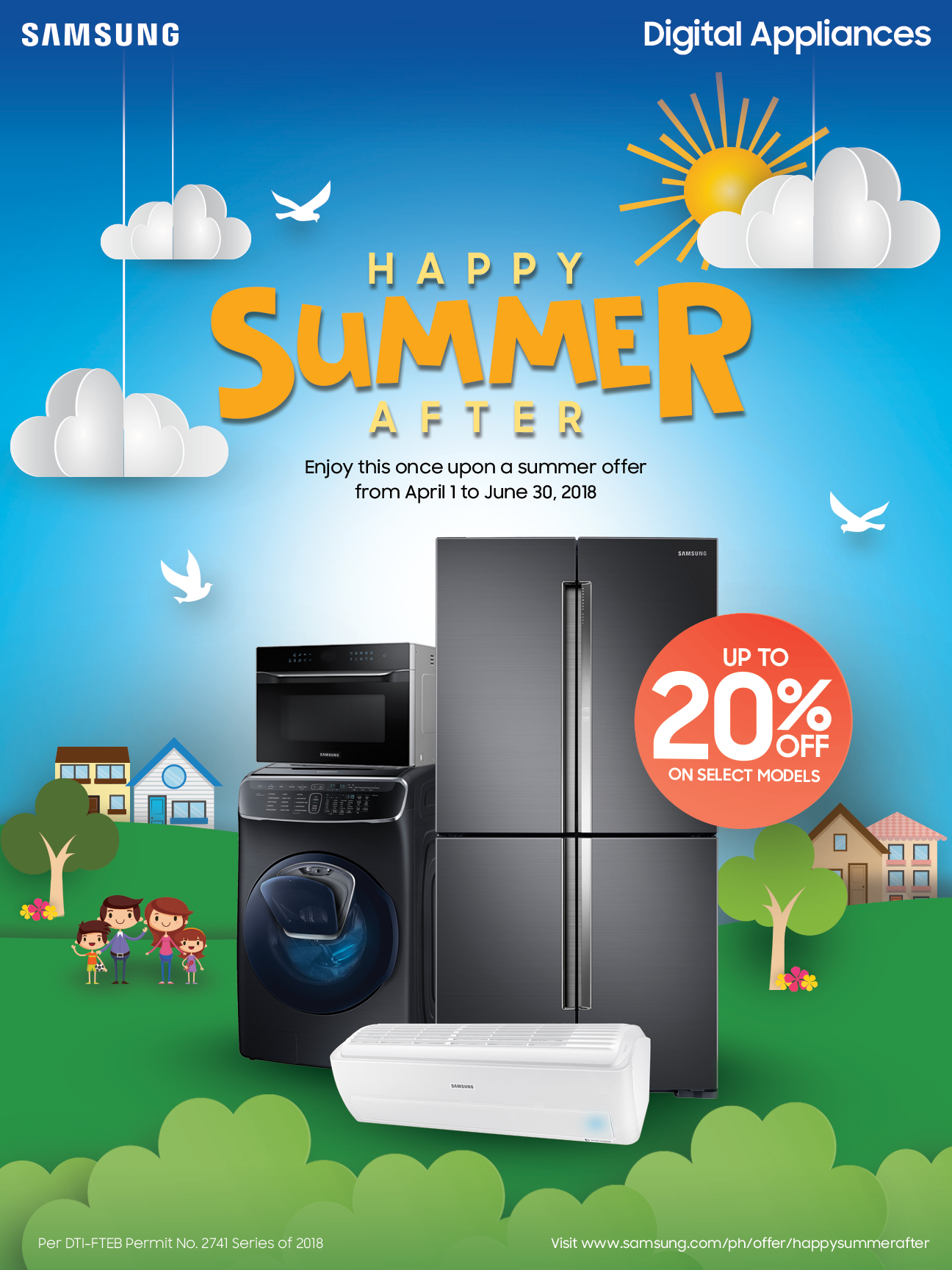 Summer may be officially over, but it doesn't have to end for you and your loved ones. Keep the magic of this sunny season alive in your home with Samsung Digital Appliances' Happy Summer After Deals. Drop by any authorized Samsung dealer today until June 30 to get up to 20% off on state-of-the-art home partners guaranteed to make every day feel like a vacation for your family.
Extend the staycation
Your kids won't ever want to leave home when you have the Samsung Wind-Free™ Air Conditioner. It's built with 21,000 micro air holes that gently and evenly disperse cold air, preventing the unpleasant feeling of direct air blow. It's also designed with Virus Doctor and Easy Filter, which eliminate dust, dangerous allergens, as well as bacteria and viruses, keeping your home's air clean and healthy. The little ones will love spending weeknights in, plopped down on the couch watching their favorite shows or playing their favorite games with the family.
What's more is that the Samsung Wind-Free™ Air Conditioner is equipped with a Digital 8-Pole Inverter technology, which consumes only 32% of the energy used by conventional air conditioners. This way you can look forward to more fun family time without worrying about additional costs.
Keep the family feeling fresh and clean
Let your loved ones feel as bright as a sunny day with fresh, clean clothes. With the Samsung FlexWash, you can always have their favorite garments ready to wear no matter the load. It's built with two washers and one dryer, enabling you to run two different loads at the same time. It also features an AddWash door, which allows you to add any forgotten clothes or more delicate fabrics mid-cycle, so you don't have to run another one.
Prepare fresh and nutritious meals every day
Nothing says summer like fresh fruits and vegetables. You can serve this and a host of other refreshing treats every day with the Samsung Twin Cooling Refrigerator. It's equipped with separate evaporators for the fridge and freezer, to prevent odors from mixing. This way, different food products retain their original flavor. This technology also helps retain up to 70% humidity, so your food stays fresh for up to two times longer.
On top of that, the Samsung Twin Cooling Refrigerator offers the ultimate flexible storage through the Smart Conversion feature. Choose from five freezer-fridge settings, depending on your energy and storage needs. Fridge Max Mode, for instance, converts your freezer for more fridge space. Vacation Mode, meanwhile, switches the fridge off and keeps the freezer running – so you can take that last-minute family trip, and not have to worry about your groceries at home. 
Get creative in the kitchen
Keep learning new recipes together. Your cooking lessons don't have to end when summer does. With the Samsung Smart Oven, which functions as a grill, steamer, fryer, and convection oven, you can easily concoct delicious treats for your loved ones any time. Equipped with 15 pre-set Cook with Ease menus, it lets you bake your own pastries, create homemade yogurt, and even grill your own steak.
The Samsung Smart Oven is also designed with the Hot Blast™ technology, which evenly blows powerful hot air through multiple air holes to ensure that food is cooked well. It also comes with a Slim Fry feature, which automatically fries food that is crisp on the outside and flavorful inside, with no additional oil.
Hurry! Don't miss the chance to get these amazing home partners at up to 20% off. Samsung Digital Appliances' Happy Summer After Deals are up for grabs until June 30. Head to the nearest Samsung authorized dealer or visit http://www.samsung.com/ph/offer/happysummerafter for more information.