If you're looking for a new pair of true wireless earphones, we may just have the right product for you. The Xiaomi Buds 3 offers good sound quality, noise cancellation, longer battery life and more. In this review we will try to explain these built-in features and our initial thoughts of the Xiaomi Buds 3.
The Xiaomi Buds 3 is priced at PHP4,999 now available in all Xiaomi stores and official e-commerce websites on Lazada and Shopee.
Unboxing
The packaging box of the Xiaomi Buds 3 comes in a nice elegant black color in a matte finish with the name, features, specs and the product image in a laminated glossy effect printed on all sides of the box.
Out of the box, there's the charging case, quick start guide, USB Type-C cable and an extra 2 pairs of ear tips. Good thing that they've used a USB Type-C cable to charge the case which most people are familiar with now. The length of the Type-C cable is almost 19-inches.
Design and Build Quality
The charging case of the Xiaomi Buds 3 gets an oval shaped and compact design both smooth with a well-rounded contours and edges for a more comfortable grip to your hands. The case is made of durable polycarbonate plastic material which makes it lightweight. It has a matte finish making it easy to clean, less fingerprints and smudges.
The case features a magnetic cover lid that smoothly opens and closes nicely. When you open the cover lid it activates the pairing process automatically connecting it to a device that's already paired with it.
The charging case is very simple as you have a single LED light indicator on the front, Xiaomi logo at the back and USB Type-C charging port together with a function button placed at the bottom.
The earbud resembles the familiar bulb and elongated stem design made of sturdy plastic material. It gets the same general matte finish effect like the charging case but has a pleasing glossy finish on each sides. The ear tips is made of rubber and Xiaomi included 2 pairs of additional tips in case the pre-installed won't fit in your ear.
You have 2 microphones on each earbuds located on the top of the bulb and below the stem. These microphones offers a layered voice filtering feature that can cancel ambient noises and retain voices with the aid of call noise cancellation algorithm for a clearer call experience.
Found on the bulb area is a small circular design which Xiaomi calls it a large metal mesh vent to flexibly adjusts the air pressure inside the cavity reducing the loss from vibration of the dynamic driver unit.
Instead of a touch control Xiaomi opted for a pinch control to access the functions of the earbuds to your connected device. The intuitive force sensor area to pinch on the earbud is located almost at the end of each stem indicated by an embossed line.
I found out that some users may hate touch controls as they have a hard time tapping during active work where you get sweaty or wet fingers.
Overall, our experience with the Xiaomi Buds 3 is comfortable and felt good in the ears. You just need to check the right ear tips for the Buds 3 not to fall out in your ear.
Controls & Connectivity
To connect the Xiaomi Buds 3 to a new device you must make sure both earbuds are placed in the charging case. With the cover lid open you must press and hold the function button for two seconds for the LED indicator light to start blinking white for the earbuds to await connection for to the chosen device for only 1 minute. If 1 minute has passed the charging case and earbuds will enter into sleep mode and LED indicator will turn off. 
While wearing both earphones the pinch control offers the following commands:
Incoming calls:
Answer/ End a Call: Single pinch on either side of the earphones.
Decline a call: Double-pinch on either side of the earphones.
Music and voice assistant
Play/Pause: Single pinch on either side of the earbuds.
Next track: Double-pinch on either side of the earbudss.
Previous track: Triple-pinch on either side of the earbuds.
Noise Cancellation modes: Press and hold for 2 seconds to cycle through each modes. For noise cancellation to be active you must wear both earbuds.
Pause music automatic: Take out any earphone while wearing one earphone.
Resume music: Wear the earbuds back.
The Xiaomi Buds 3 is equipped with the latest Bluetooth 5.2 connectivity with a range of up to 10 meters.
During our test, we still have a stable connection with the earbuds even if we go to the other room just about 8 meters to get some things. We do have some interferences when we went outside for more than 10 meters as the Buds 3 struggles to connect with the device. But once it had trouble linking up it automatically disconnects but when we return it resumes play.
The Buds 3 offers dual-device connectivity feature with two connected devices in either Android, iOS or Windows allows you to easily shift between your phone if you have a call while watching videos on your computer or tablet.
The best thing about the Buds 3 is you don't even need to unpair it should you want to use it on one of your other paired devices.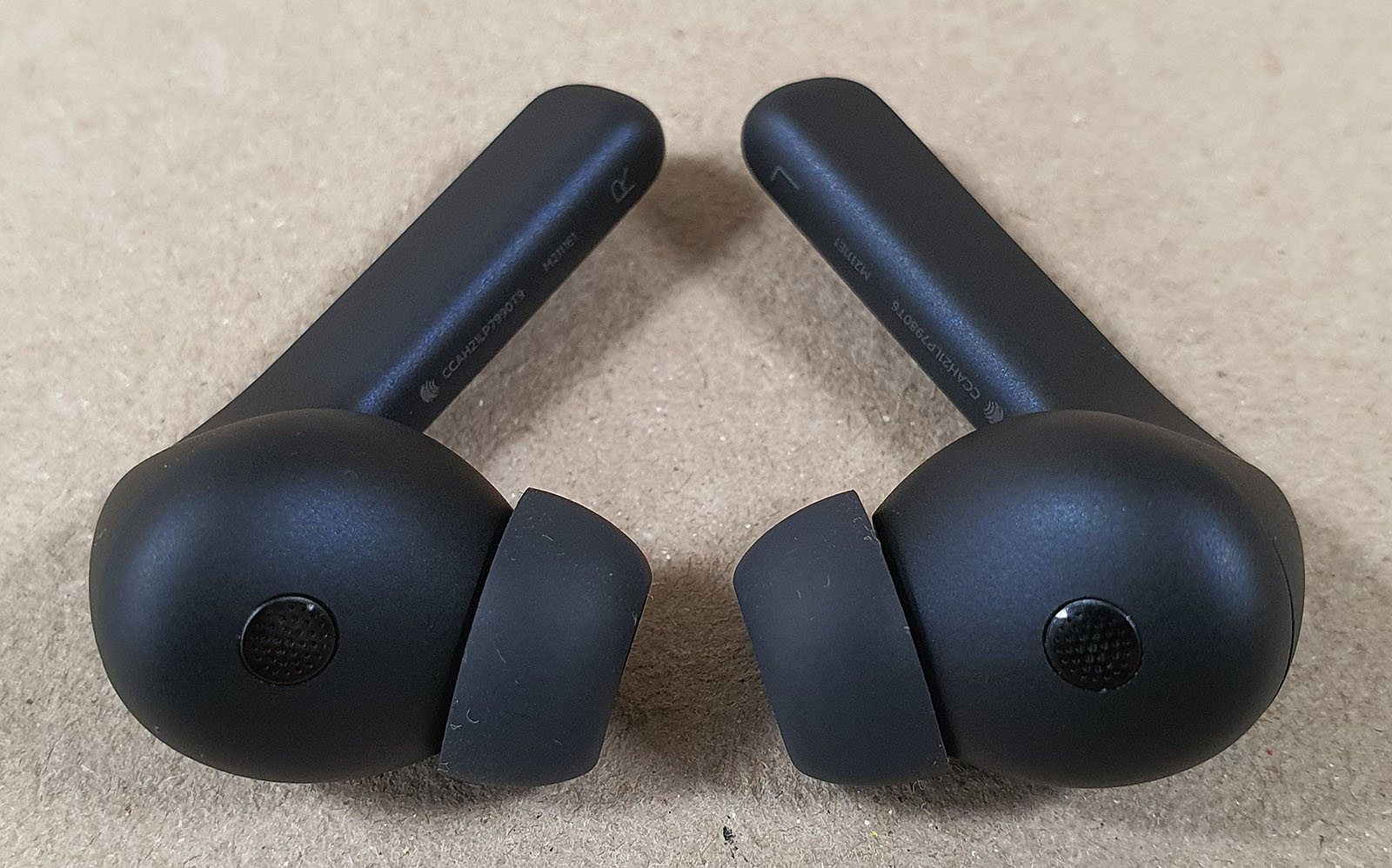 Performance
Sound quality we've experienced on the Xiaomi Buds 3 was great. You can hear that nice substantial steady bass thump coming out in the earbuds on moderate to higher volumes. But at lower volumes catching those deep bass tones are less present.
The highs or trebles gets a more elevated and enhanced such as string instruments, high-pitch noise or even vocal sounds with better clarity and natural. The treble gets the more influential part or established a bit of energy in the earbuds.
We tried everything on the Xiaomi Buds 3 from binge-watching our favorite episodes on Netflix, playing games and more than ever in listening to our favorite music. The Buds 3 performed very well with flawless synchronization delivering decent studio-level sound quality without interruption. For gaming, we never experience any delay or lag while playing with the earbuds.
The earbuds has a triple-microphone environmental noise cancellation feature that reduced or cancel the background sounds making your voice clear and stand out in any calls. But wind noise such as using the earbuds in front of an electric fan or outdoors is a bigger risk and distracting. The Buds 3 can also be used in any video conferences like Microsoft Teams or Zoom meetings.
The Xiaomi Buds 3 offers three modes of noise cancellation feature depending on the degrees of ambient noise you want to prevent in your ear for a more proper reduction and comfort. The three available noise cancellation levels are Balanced mode, Light mode and Deep mode. The maximum noise cancelling depth is up to 40dB and even on deep mode you can still hear a bit of your environment.
It gets an IP55 rating  making it resistant from dust and water, you can wear them while sweating at the gym and wash them off under a faucet for just a few seconds.
Battery Life
The Xiaomi Buds 3 case can be charged using the wired Type-C cable and a compatible wireless charger. Although there's no power adapter or charging pad included in the package so you may have to use your own.
When charging the case the single LED indicator on the front will lit red and turns green indicating that the earbuds and the case are fully charged.
To charge the earbuds you just simply placed them on the charging case and they will automatically start to charge.
The charging case has a battery capacity of 450mAh while the earbuds have a 40mAh. You get 7 hours of playtime with the earbuds and with the charging case can boost more use up to 32 hours.
What We Like
Design and build quality

Pinch control

Dual-device connectivity

Audio quality

Wireless charging

Battery life

Decent noise cancellation

Fair price
What We Want
Protective case

Volume controls
Conclusion
The Xiaomi Buds 3 gets a simple yet solid design, comfortable fit and excellent build quality for its general aesthetics. It also has a well-designed audio quality with good bass, mid-tones and trebles which will not disappoint you.
Noise cancellation offers three modes that you could choose from, good call quality, and you're also getting a wireless charging feature on the Buds 3. It also has splendid battery life extending its usage up to 32 hours thru its charging case.
Pinch control may be a better option compared to the touch control but you may need to get used to where the force sensor area is to be pinched. I wish that Xiaomi should add a volume control in the pinch control.
Overall, the Xiaomi Buds 3 offers an upright listening audio experience and built with lots of useful features. If you have the budget and not too keen with the specs then we recommend that you buy this product.
Full Specifications
Price: PHP 4,999
Color: Carbon Black / Gloss White
Weight: 52 g
Charging port: USB Type-C
Speaker impedance: 32 ohms
Earbud input parameters: 5V–0.08A
Charging case input parameters: 5V–0.5A
Charging case output parameters: 5V–0.2A
Wireless connection: Bluetooth 5.2a
Bluetooth profiles: Bluetooth Low Energy/HFP/A2DP/AVRCP
Operating distance: 10 meters
Package Contents: Charging case, Earbuds, User manual, Type-C charging cable, Earbud tips (2 pairs)
Battery life earbuds: 7 hours
Battery life total: 32 hours
Battery capacity case: 450mAh
Battery capacity earbuds: 40mAh
Features:

IP55 Rating (Dust and Water Resistance),

Pinch Control,

Wireless Charging,

Dual-device Connectivity
5,453 total views, 14 views today