If you're looking for a Bluetooth speaker that's small, portable and offers the nicest sound quality, we would recommend this new product the Tribit StormBox Micro.
The Tribit StormBox Micro can also be a good upgrade for someone who already own a Bluetooth speaker but still wants a better one you'll definitely like this new audio device.
The Tribit StormBox Micro also got some very good reviews from CNET awarding them their Editors' Choice last December 2020 and a 5-star rating by What Hi-Fi? the world's no. 1 technology buyers guide.
The Tribit StormBox Micro is priced at PHP 2,499 now available on all Digital Walker stores, website and e-commerce stores on Lazada and Shopee.
So, let's look a little more closer and see how the Tribit StormBox Micro performs.
Specifications and Unboxing
Before we begin here's the full specifications of the Tribit StormBox Micro:
Connectivity: Bluetooth Version 5.0
Range: 100 feet
Output Power: 9W
Battery Type: Lithium-Ion 3.7V
Battery Capacity: 2600mAh
Playtime: Up to 8 hours
Charging Time: 5 hours @ 5V/1A
IP Rating: IP67 (Dustproof & Waterproof)
System Frequency Response: 70Hz-20kHz
Dimensions: 3 x 98.3 x 35.8mm
Weight: 257g
Audio Codecs: SBC
Support: A2DP AVRCP HFP
Packaging of the Tribit StormBox Micro is very simple made of thick cardboard material with the image of the product, it's notable features and other information printed on it.
Inside the box you'll have the StormBox Micro Bluetooth speaker, USB Type-C cable and User Manual.
Build Quality and Design
First thing we noticed is the nice squared-shaped design of the speaker with a rounded edge on all its corners. It measures at 3.87 x 3.87 x 1.41 inches and weighs 257 grams or almost 0.6 pounds making it easy to carry or place it inside your bag.
The StormBox Micro is available in three colorways of Blue, Orange and our review unit in Black.
We also observed that the StormBox Micro's structure is divided into two parts. On the top, the square speaker is covered in a mesh material and the bottom part housing is made of durable plastic polymer in a matte finish.
You have a Tribit logo in the center then underneath it you have a row of three physical buttons which controls the volume and a multifunction button found on the top of the speaker. At the bottom you have an integrated plastic strap which you can unfasten one end to coil it either to the strap of your backpack or the handle of a bike.
On the sides you will find the power button, mic, Bluetooth pairing button, six LED light indicators and a USB Type-C port to charge the device. The StormBox Micro doesn't have any auxiliary input or a 3.5mm headphone jack if you want to wired up to any device. Connecting on this device will all be done wirelessly.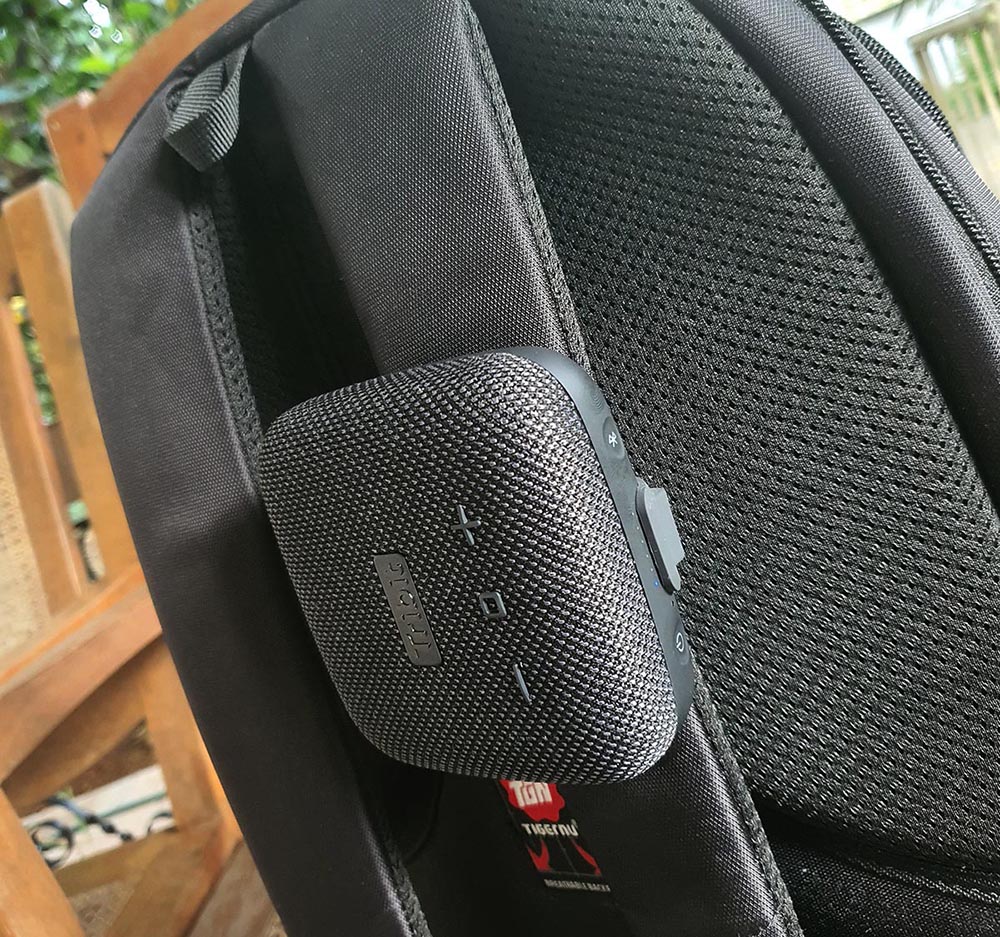 Controls and Connectivity
Connection of the StormBox Micro is stable thanks to the built-in Bluetooth version 5 that can cover a range of up to 100 feet.
To connect to your device, you can simply turn on the StormBox Micro and it will automatically go into Bluetooth pairing mode. Look into your Bluetooth settings to select "Tribit StormBox Micro" and pair it.
You may also press and hold the Bluetooth button for 2 seconds to enter into pairing mode. If you have a lot of devices to use with the Bluetooth speaker, good thing that it can remember up to 8 paired Bluetooth devices. It can connect to two devices simultaneously at the same time and easily switch from one device to another without the need to disconnect it.
Controlling your volume, music or calls are done via the physical multi-function button in the form of icons. The plus and minus icons for the volume while the square shape at the center can access the following functions:
Music mode functions:
Short press – Play/Pause

Double press – Next Track

Triple press – Previous Track

Press and Hold for 1 second – Activate Voice Assistant
Conversation mode functions:
Short press – Answer/End phone call

Short press – Pause the current call and answer incoming call

Short press – Switch between two phone calls

Press and Hold for 1 second – Reject phone call
Durability 
The StormBox Micro gets an IP67 rating that can withstand a spill or strong jets of water and totally protected against dust.
Under the IP67 rating it can resist the effects of temporary submersion of water between 15cm to 1 meter for at least 30 minutes.
The overall material of the StormBox Micro is designed to sustain severe accidents such as unnecessary drops or bumps.
Sound and Call Quality
The portable StormBox Micro has a built-in 9-watt speaker that can make a small room fill up the sound inside with the volume max out. What's so remarkable about this speaker is even when you crank the volume up the quality doesn't suffer at all.
Overall, the sound quality is great on all frequencies from its low, mid and high. Even the bass kicks in very lively and always present due to the built-in XBass technology. With the XBass technology you get up to 20% more bass.
One experience we want to share is when we listen to Player's Baby Come Back song. We could hear the instruments very detailed plus harmoniously combined from the rhythmic solo of the guitar, synthesizers, bass lines, drums and clear vocals of Peter Beckett together with the band.
You can just play or throw in any music genre on the StormBox Micro it will sound incredible.  And if you're into hip-hop, R&B, techno, house or anything with bass on it, the speaker will not disappoint you.
Audio quality is still at its best if you're going to use it for watching movies or playing your favorite online games on your mobile phone.
The StormBox Micro also enables you to receive and answer calls from the speaker. But during our test we encountered that the person on the other end always told us that our audio sound low. However, whenever they talk during the call their voices are clear from the speakers. This might be due to the built-in mic on the speaker which has only 1 array. I was hoping that Tribit could consider putting multiple microphones available on the speakers.
Battery Life
The Tribit StormBox Micro is equipped with a 2600 mAh battery that can give you up to 8 hours of audio playtime. But if you will use it at full volume trying to fill-up a large room it may probably last around 5 to 6 hours.
You can charge the speaker using a USB Type-C cable and will take you around 3.5 hours to fully charge it. The StormBox Micro can still be used while it's plugged. You can also extend its battery life if you have a powerbank to charge the speaker in case you're on the go.
As we've mentioned it has five LED indicator lights to let you know the battery status which really helps a lot. A flashing red light means a low battery, flashing white light indicates that it's charging and a full charge will have no LED lights.
Dual Pairing Feature
Another feature on the StormBox Micro is the dual pairing function. If you have two StormBox Micro you can pair both speaker via the wireless stereo technology to create a truly immersive listening environment.
On this feature you may choose two pairing function modes either on Party mode or Stereo Mode. On Stereo Mode, each speaker will be designated as the left and right adding a spacious surround sound effect.
What We Like
Audio Performance

XBass Technology

Build Quality

Decent Battery Life

USB Type-C Charger

IP67 Rating

Price
What We Want
Auxiliary Port

Improve Mic Quality
Final Thoughts
We really enjoyed our review with the Tribit StormBox Micro! With its compact size it delivers great sound quality at an excellent value of PHP2,499 only. We even did not expect it will produce those good deep bass.
With an IP67 rating you can carry it just about anywhere even outdoors. I could see that the StormBox Micro is also a perfect audio companion if you have small gatherings with friends or family.
Other notable features we admired on the StormBox Micro are the LED light indicators, the USB Type-C port, stable Bluetooth connectivity, and the overall build quality.
It still has a decent battery life with usage of up to 6 to 8 hours depending on how would you crank up the volume of the speaker. While charging you can still use it even it is plugged either on an outlet or connected on a powerbank.
If there will be such flaws on the StormBox Micro I would say it's less of a worry. All in all, I would definitely recommend the Tribit StormBox Micro as another one simple Bluetooth speaker that's reasonably priced, portable and sounds so good.