We first had the privilege to experience the Samsung Galaxy Buds2 Pro during our NDA event last August 2022 as it was launched together with Samsung's new foldable phones the Galaxy Fold4 and Galaxy Flip4.
Now, we have a hands-on review and will share some of our thoughts about this amazing new audio product from Samsung.
The Samsung Galaxy Buds2 Pro is priced at PHP12,990 now available in all Samsung Experience stores and its online e-channel partners on Lazada and Shopee. You can get the Samsung Galaxy Buds2 Pro for only PHP10,390 when you order via online thru their Samsung official website.
Now, let's dive in to see the new and improved features of the Samsung Galaxy Buds2 Pro.
Unboxing
The packaging box of the Galaxy Buds2 Pro is made of thick cardboard material clad in an all-black color.
Inside the box you have the following contents: charging case, Buds2 Pro earbuds, USB-C cable, extra ear tips, quick start guide and warranty card.
Design And Build Quality
The Samsung Galaxy Buds2 Pro has three colorways available in a blackish shade in Graphite, simple White color, and our review unit in Bora Purple.
The charging case is made of durable polycarbonate material and features a nice squarish–rounded form factor just like a tiny jewelry box that's hinged at one end so you can easily open it even with just one hand. The Bora Purple color looks very appealing having a matte finish that helps repel fingerprints.
On the top cover you have a Samsung logo and the bottom has a charging coil for its wireless charging. At the back near the hinged portion, you'll find the USB-C port and the LED indicator light at the front for the charging case battery status. Opening the cover lid there's another LED indicator found at the center which lets you know the earbuds charging status.
Weighing at 5.5 grams, both earbuds has a rounded type housing design in matte finish with changeable silicone ear tips. Each earbuds contains the charging contacts, microphones, sensors, speakers and antenna.
The Galaxy Buds2 Pro are very small and lightweight making them much more comfortable to wear for extended periods of time. 
The earbuds gets an IPX7 rating against water that can easily shrug off sweat if used in your workouts, splashes of water, the odd deluge of rain and up to 1 meter of immersion in freshwater for up to 30 minutes. However, the charging case is not water or dust resistance so you have to take care of it more often.
In general, the design and build quality of the Galaxy Buds2 Pro are excellent for both the charging case and earbuds making it stylish, compact and lightweight.
Pairing and Connectivity
Setting up our Galaxy Buds2 Pro review unit with our Galaxy Note10 Plus was very easy as it connects via Bluetooth 5.3 and the phone instantly recognized it and paired up in a matter of seconds. 
Once paired, the phone automatically connects to the Samsung Galaxy Wearable app or for other android phone it will let you download the app. Next, it will then installs a few additional files in order to interact properly with the earbuds.
If you've already paired the earbuds with your other devices just simply open the charging case to connect it again. In case you had trouble connecting them automatically, just touch and hold the touch sensor area of the earbuds for 3 seconds until the light starts blinking red, green and blue. This method can also be used when paring to a new device.
By default, the medium sized ear tips was already installed in our earbuds which fits perfectly in my ears but if the size isn't the right one for you they included additional ear tips in small or large.
Galaxy Wearable App
 The Galaxy Wearable App connects, manages and monitors any of you wearable Samsung AIoT devices to your mobile device. With the Galaxy Buds2 Pro linked to the app you can now control or access more settings to your earbuds.
What I liked on the app, it was able to run a fit test before using the earbuds to ensure that it fits perfectly within your ear canals.
You can precisely adjust the equalizer settings to your personal specifications or select from a predefined set and also customize the control setup to a modest degree. You can also select between the noise control function to turn on/off the ANC or Ambient sound mode.
Other features you can do on the wearable app for the Galaxy Buds2 Pro are the following:
360 audio – Enjoy immersive audio experience with just your device from all directions, it's a more fun way to enjoy your videos or music.
Find My Earbuds – Let's you locate your earbuds in case you misplaced it. The earbuds will start beeping, getting gradually louder for a period of 3 minutes.
Voice Detect – It identifies if you're speaking, like say in a conversation with someone else which will temporarily lowers the music volume and swaps to Ambient mode before switching back when you're done. This helps to shave off a few seconds of time having to remove the earbuds or mute it.
Bixby Voice Wakeup – Access Bixby without even pressing a button on your device, just simply say "Hi, Bixby!"
Seamless Earbud Connection – Switch quickly to nearby devices without disconnecting your earbuds or turning on the pairing mode. Though you'll need to sign up for a free Samsung account and sign in all your other connected gear But it's a nice perk to have, especially who already invested significantly in the Samsung ecosystem. 
Labs – It features two experimental modes that you can use built on the Buds2 Pro. You have two: Double Tap Earbud Edge to turn the volume up or down by tapping on the edge of the earbud. Then you have Gaming Mode to minimize delay and synchronized audio gaming experience.
Touch Controls
The Samsung Galaxy Buds2 Pro offers  touch gestures as both sides of the earbuds are touch-sensitive. They are very intuitive with the options to tap them once or several times to toggle between activating either Active Noise Cancellation (ANC) or Ambient sound, pause/play your music or switch songs. Here are the following touch controls you can do on the earbuds:
Press and hold – switch between ANC and Ambient sound mode
Single tap – play or pause
Double tap – next song / answer call or end call
Triple tap – previous song
Touch and hold – reject call
Fit, Comfort and Sound Quality
I have managed to wear the Galaxy Buds2 Pro without undue discomfort for a good four to five hours with activities ranging from listening to Spotify, watching YouTube videos and some binge sessions of episodes of Cobra Kai on Netflix.
The earbuds doesn't even fall off when I bounced out the room going up and down getting drinks and snacks in the kitchen. Even during workouts when I tried it one time in the gym on the treadmill for hours.
To check out its audio quality, I used my Samsung Galaxy Note10 Plus to pair it off with the Samsung Galaxy Buds2 Pro to test out with a variety of tracks including acoustic, pop, and rock music as well as a few movies including a selection of downloaded high resolution 24-bit audio tracks.
Overall, the Galaxy Buds2 Pro did not disappoint with its sound quality! It offers superb richness, wide soundstage and clear vocal details along with that suitably lovely deep bass we can obviously feel in our ears.
Call quality on the other hand are just decent with people that I've talked to said that my voice is clear, but others said that I sounded like I was on a speakerphone. Background noise from my surroundings are not present or heard from the other end during calls.
Battery Life
The charging case has a battery capacity of 515mAh while 61mAh for the earbuds.
Samsung claims that you can have up to 5 hours of playtime with the ANC turned on but you'll get more with the earbuds up to 8 hours if the ANC is turned off. For talk time or voice call you can get up to 14 hours.
With the charging case you can have a total of 18 hours of usage which is pretty good. The earbuds can charge fast and if you juice it up for 5 minutes via the USB-C port, it can get about an hour's worth of good time music playback.
During our test, the Buds2 Pro with the ANC turned on left us an 82% battery after using it for almost 1 hour of watching videos on YouTube.
As you already know, you can charge it via the USB-C port or go wirelessly with a compatible wireless charging pad and if you have a Samsung Galaxy series phone you may use the reverse power share.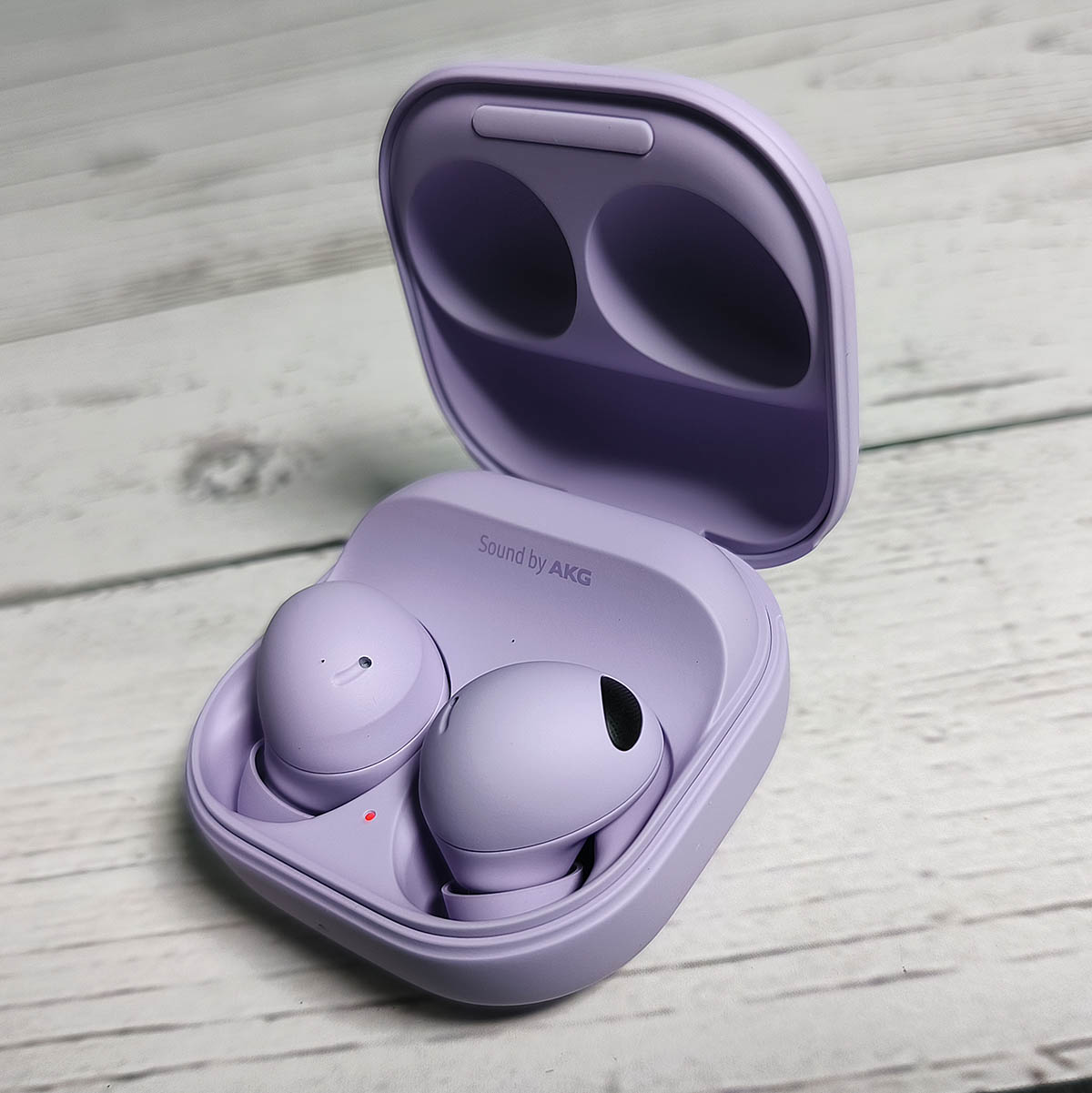 What We Like
Build Quality and Design

Audio Quality with Deep Bass

Comfortable and Secure Fitting

Wireless Charging

Voice Detect and Noise Control Feature

Array of Controls on The Samsung Wearable App

Decent Battery Life

Seamless Switch To Other Devices

Extra Ear Tips
What We Want
Conclusion
For a compact and lightweight pair of wireless earbuds, the Samsung Galaxy Buds2 Pro is a solid audio device with better active noise cancellation and offers a great sound performance.
Samsung phone users can take advantage of its other built-in interesting capabilities found on the Galaxy Wearable app, but don't worry as the app can also be downloaded with other Android devices. I loved the voice detect and noise control feature that's very convenient for me especially at work.
As for the sound quality, the Galaxy Buds2 Pro packs some plenty of bass with mid-range and treble not too loud but balanced both full and filled with details and clarity.
For us the Samsung Galaxy Buds2 Pro would probably be one of the best audio products in the market today in its price range and you get more than what you paid for so we definitely recommend it.
3,127 total views, 6 views today