It was November 2019 when I first knew about Poly during a product launch which they unveiled the Savi 8220 and 8210, its first enterprise Digital Enhanced Cordless Telecommunications or DECT wireless headsets with a built-in Active Noise Cancelling feature. I was immediately amazed with the new product and its feature.
For those who haven't heard of Poly or formerly Polycom, a part of Plantronics, is an American multinational corporation that makes video, voice & content collaboration and communication technology. Last August 2022, HP announced that it has completed its acquisition of Poly as both two iconic companies will set its goals to be the leading provider of hybrid workplace collaboration solution.
But for now, I have the privileged to experience and share our thoughts on one if its latest Bluetooth headsets with the Poly Voyage 4320 UC.
So, lets check out what the Voyager 4320 UC has to offer.
Unboxing
The packaging box of the Poly Voyager 4320 UC is very simple and sustainable with no lamination or print finish effect whatsoever.
The material used is made of thick brown kraft cardboard making it eco-friendly.
Out of the box you'll get the following contents the Voyager 4320 UC unit, bluetooth adapter, USB-A to USB-C cable, pouch and documentations.
Build Quality and Design
The overall body of the Voyager 4320 UC is made up of durable polycarbonate material while the ear cups get some cushioning for better comfort.
The headband can be easily adjusted so it can accommodate different sizes. The extended microphone boom is found on the right side that's flexible and can be rotated to adjust the microphone from my mouth for better clarity.
You have several buttons on the headset including the volume control buttons at the right ear cup and underneath it are the power button and a USB-C port. At the center you have another button for call and interact with Microsoft Teams when paired to your PC.
For smartphone the center button can activate your voice assistant, single click play/pause, double click for next track and triple click for previous track.
There's also a dedicated button to mute or unmute the calls placed below the microphone boom.
All of the buttons are very clicky, so it's easy to know if you pressed the buttons properly or not.
The exterior design of the ear cups gets a nice glossy finish with the right side having a blue LED ring around it.
The device will also notify you whenever you get a new call or message and when the battery level comes down.
Overall, the Poly Voyager 4320 UC offers a pretty solid build quality and its aesthetics looks decently premium.
Comfort
Although the headband is a bit hard because of its durable plastic material, we had no issues wearing the headset for almost 4 to 5 hours during our test thanks to the soft padded cushions on the ear cups.
The Voyager 4320 UC is perfect for office people who needs to take long calls more than anyone like call centers, teachers, call operators etc. For them comfort is a major priority in which this headset can pretty much offer it to them.
Connectivity
The Poly Voyager 4320 UC supports both wired and wireless connectivity. It uses a USB-C port for the wired connection while Bluetooth 5.2 if you opt to connect wirelessly.
Good thing Poly already included both a USB-C cable and a Bluetooth dongle in the packaging so you have no problem buying any of it.
The headset can easily connect to your mobile phone, you just need to slide and hold the Power switch away from the off position until you hear "pairing" which the headset LEDs will flash red and blue. Next, on your phone simply scan for devices then connect.
As for the bluetooth connectivity range with the adapter is strong. I experience no lags or disconnection even if I walked across my the other room to get some things for a meeting I had in a call via Zoom. With the Bluetooth it does have its advantage as  I was able to roam free and be more productive at my work.
Poly Lens Application
Poly has its very own proprietary app called Poly Lens that's totally free available for macOS devices and Windows PC. Soon the Poly App will also be available in all smartphones.
You can do the headsets version updates through the app as well as manage, configure and monitor your device such as check the battery level, change the notification type (voice or tune), and a lot more.
You also have extra features on the app like Insights to check your device usage and workstation connectivity. Health & Wellness will help you remind to stay hydrated, soundscapes to improve focus. Lastly, you have access to Remote support, troubleshooting and premium network monitoring features to diagnose network problems.
We immediately got version updates both on the headset and BT700 Bluetooth USB adapter once we got it connected to the Poly App in our Macbook Pro. It only took 10 minutes to complete all updates on the devices.
Performance
The Voyager 4320 UC works remarkably well, during our test the conversation between the other person in the call are clear on both ends even with the ambient noise present like the electric fan, TV, speeding tricycles outside etc. It cancelled out most of the extraneous sound due to the acoustic fence technology in which sounds from "outside of the fence" are blocked from being heard by remote participants. With this feature the end result reduces and allows remote callers to hear and focus on the meeting at hand.
The mic captures my voice correctly and I learned from the opposite person that they received a good quality one.
The headset offers a pretty decent audio quality when we used it with some YouTube videos, audio tracks, and a couple of Netflix episodes. It produces decent lower bass, vocals are clear while mids and high trebles are clipped in a way shrinking the overall sound space but the experience isn't very bad at all.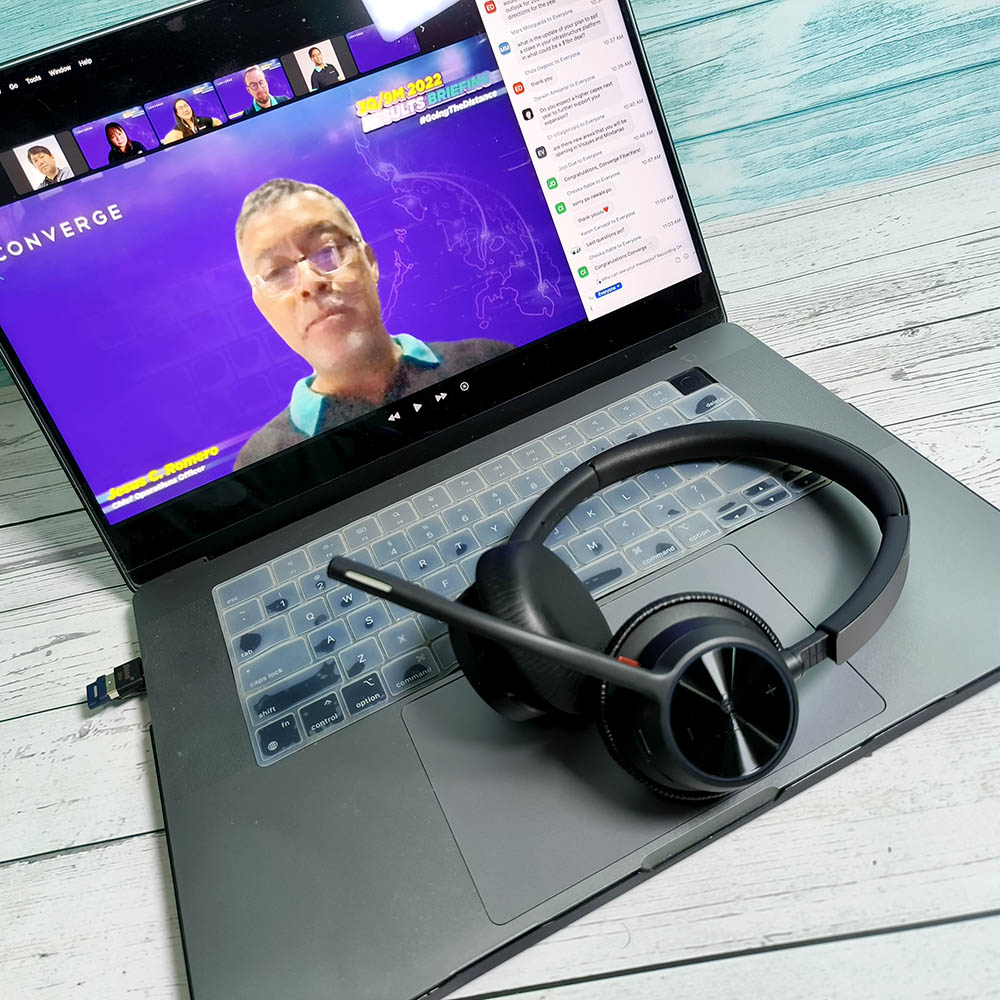 Battery life
The headset is equipped with a 350mAh battery using a Lithium Ion and Poly claims that it can deliver up to 24 hours of talk time and 47 hours of listening time. It has a long standby time up to 50 days if you're not using the headset always.
Charging the Voyager 4320 UC will take you less then 2 hours for a full charge. It has a fast charge support which a 15-minute charge on the headset can have you up to 10 hours of listening time with the headset.
So far the battery duration and usage on the Voyager 4320 UC is quite impressive.
What We Like
Build Quality and Design

Comfortable Ear Padding

Battery Life

Poly Lens Desktop Application

Clear Audio

Fast Charge Feature

Adjustable Length

Acoustic Fence Technology

Seamless Connectivity
What We Want
Active Noise Cancellation
Conclusion
The Voyager 4320 UC Bluetooth headset is durable, lightweight and comfortable without no issues wearing it for over 5 hours of continuous usage.
Connectivity is stable no lags or disconnection on the device even if you prefer connecting or pairing with the BT700 Bluetooth adapter, Bluetooth 5.2, or USB-C you have all these array of connectivity options which are present.
As for performance, the experience I had with the headset is a good one. I receive very clear and loud audio on my end while the acoustic fence technology can help more. Other than for work the Voyager 4320 UC can produce decent audio quality if used for watching movies, listening to music and more.
Battery life on the Voyager 4320 UC is excellent with the ability to fast charge it for 15 minute can give you enough for more than a working day of use.
Overall, we liked much of what the Voyager 4300 UC series can offer it provides a clear sound and excellent clarity for anyone at the recipient end of the conversation perfect for anyone who's into hybrid work.
Poly Voyager 4320 UC Full Specifications:
Price: PHP7,790
Connectivity: PC/Mac via BT700 USB-A or USB-C adapter and a mobile phone via Bluetooth v5.2. Voyager Office base: Connects to a desk phone (via telephone interface cable), computer (via USB-A or USB-C cable) and mobile (via Bluetooth)
Wireless Connectivity: Class 1, Multipoint connectivity, headset connect to two devices at the same time, remembers up to 8 devices
Bluetooth Profiles: A2DP, AVRCP, HSP, HFP
Bluetooth Range: Up to 50 meters/164 feet headset only, Up to 91 meters/300 feet with Voyager Office base

Wired via USB-C: Connect to PC via included USB-C cable (1.5 meters/4.9 feet) with audio over USB mode

Battery Capacity: 350 mAH
Battery Type: Lithium Ion
Talk time: Up to 24 hours (online indicator off), Up to 18 hours (online indicator on, default setting)
Listening time: up to 47 hours
Charge time: 6 hours for a full charge
Fast Charge: up to 10 hours listening time after 15 mins of charge
Standby time: up to 50 days
Receive Frequency Response: Dynamic EQ optimized for PC wideband voice telephony up to 7 kHz or for multimedia 20 Hz to 20 kHz
Hearing Protection: SoundGuard DIGITAL: G616 support limits the level to 102 dBSPL; Time-weighted average prevents average daily noise exposure from exceeding 85dBA
Microphone and Technology: Flexible noise canceling boom with dual microphone Acoustic Fence technology. Easy access mute button on microphone boom
Headset Controls and Lights: Call answer/end, mute, volume +/-, power ON/OFF/PAIRING / Online Indicator – Two LED indicators on speaker housing shows in a call status
Headset Weight: Voyager 4320 Over-the-head (stereo): 162 g / .35 lbs
Manageability: Cloud: Poly Lens service (some solutions sold separately), Local (Windows/Mac): Poly Lens Desktop App
Certifications: Microsoft Teams (Teams version only), Zoom
Warranty: 2-year limited warranty included
840 total views, 12 views today