If you have several devices that needs power but there are not enough plug sockets to charge them all at once. The best solution to solve this problem is to buy a multiple port wall charger, good thing AUKEY has that perfect device and built with the latest technology on it.
Introducing the AUKEY 6-Port 60W Wall Charger with Qualcomm Quick Charge 3.0 is one of the best option for all your devices. For those of you who are new to the company, AUKEY is a German brand and one of the top ranked Amazon sellers for its powerbanks and chargers. AUKEY is now here in the Philippines with more of its products coming in that will be available in the market. AUKEY's several product line-up will include of powerbanks, wall chargers, car chargers, cables and more.
PACKAGING AND CONTENTS
The packaging of the AUKEY looks very nice, simple, and made from high quality material with a matt laminated finish. If you open and pull the front cover to the side it lets you see a glimpse of the product. Located at the bottom of the box you can see a QR code that will direct you to the AUKEY global website once you use the barcode reader app on your phone.
The contents are placed in a plastic tray which includes the following: 1pc AUKEY 6-Port Wall Charger, 1pc AC Cable US Plug (0.8 meter), 1pc Micro USB Cable (1 meter), and 1pc Multi-language User Manual.
BUILT WITH AUKEY'S LATEST TECHNOLOGY
 Here are some of AUKEY's product features that the 6-port wall charger supports with.
AiPower Adaptive Charging Technology gives all your USB powered devices exactly what they need with up to 2.4A per Ai USB Port. This is the signature green USB Port found on the wall charger. This feature is engineered to provide the safest maximum recharge rate for all your different devices whether Android, iOS, Bluetooth headphones, cameras, or even other power banks.
Quick Charge 3.0 is another feature that's made to refuel devices up to four times faster than conventional charging in devices especially on smartphones featuring a Qualcomm Snapdragon processor. The orange USB port is compatible with all USB standards from USB-A to USB-C and incorporates INOV (Intelligent Negotiation for Optimum Voltage) for fined tuned power output and a more optimized charging cycles. It is designed to charge twice as fast as Quick Charge 1.0 and is 38% more efficient than Quick Charge 2.0 for other devices supporting this version. Not all devices has this technology as the manufacturer designs and puts a Qualcomm Quick Charge technology into a product upon their discretion.
Here are a list of selected smartphones that supports Qualcomm Quick Charge 3.0 Technology: Asus ZenFone 3 Deluxe, Asus ZenFone AR, Baofeng Matrix (VR), General Mobile GM5+, GeniusIDEA Follow (drone), Gionee M2017, HP Elite x3, HTC 10, HTC One A9, LeEco Le MAX 2, LeEco (LeTV) Le MAX Pro, LeEco Le Pro 3, Lenovo ZUK Z2 Pro, LG G5, LG isai Beat LGV34, LG V20, NuAns NEO, Nubia Z11, Nubia Z11 Max, Nubia Z11miniS, Qiku N45, Qiku Q5, Qiku Q5 Plus, Smartisan M1, Smartisan M1L, Sony Xperia XZ, Sugar F7, TCL Idol 4-Pro, TCL Idol4S, Vodafone Smart platinum 7, Wileyfox Swift 2, Wileyfox Swift 2 Plus, Wileyfox Swift 2 X, Xiaomi Mi 5, Xiaomi Mi 5s, Xiaomi Mi 5s Plus, Xiaomi Mi Max,  Xiaomi Mi Note 2, Xiaomi MIX, ZTE Axon 7, and ZTE Axon 7 Max.
You can read all about Quick Charge 3.0 on Qualcomm's website if you want a more detailed explanation about the technology.
EntireProtect is an advanced multiple level protection system implemented in AUKEY's chargers and power banks to safeguard your USB chargeable devices against excessive current, short circuits, overheating, and over charging.
RELIABLE AND WITH QUICK CHARGE FEATURE
The black Anker 6-Port Wall Charger is built of a durable plastic and with a nice matte finish that is much less prone to pick up fingerprints and scratches. First thing you will notice on the device is an array of 6-port USB that is color-coded. The four green USB ports supports AiPower Adaptive Charging Technology powering your devices exactly what they need with up to 2.4A. While the two orange USB ports supports devices that has Quick Charge 3.0 technology refueling it up to four times faster than conventional charging. It can also support devices that have Quick Charge 1.0 and 2.0.
At the back you will see the AC outlet that connects the detachable 0.8 meter power cord. This is helpful as it allows you to place the unit away from your wall outlet. It is convenient also if you have an outlet that is hidden under a desk or for office use where you can share it to your co-workers to charge their devices.
I tried charging my Samsung Galaxy S7 Edge that is supported by Quick Charge 2.0 on the Qualcomm Quick Charge 3.0 USB (Orange) port to see how it performs. Initial test started with the battery of my phone at 32 percent only. When I plug it into the Quick Charge 3.0 USB port of the Anker the remaining estimated charging time is 1 hour and 13 minutes. While if I tried pluging it to the AiPower Adaptive Charging USB (Green) port the estimated charging time was 1 hour and 26 minutes. With the Quick Charge it was quite fast considering that after doing some office stuff and internet browsing the phone is fully charged already.
The Anker 6-Port 60W Wall Charger performs well on our intial six-smartphone charge test with successfully providing the needed current to each of it. Even if some of the phones don't support the Quick Charge 3.0 technology. It performs very well when I charge my other devices simultaneously on the Anker 6-Port like my Fujifilm X-T20, a powerbank and an extra cellphone. Bottomline, it is very useful especially at the office or at home if you have several devices where you need to charge it instantaneously. What AUKEY can improve on is more length to its AC plug maybe giving it around 1.5 to 2 meters long, so that if you need to put the wall charger on a higher table or desk it will be enough to put it there.
Unfortunately, I have no way of testing and checking how well the chargers work with devices that supports Quick Charge 3.0 because I don't own one. But I have listed the devices that have Quick Charge 3.0, but from what I have experience so far you get value for your money, reliable features and a solid multiport wall charger I have used.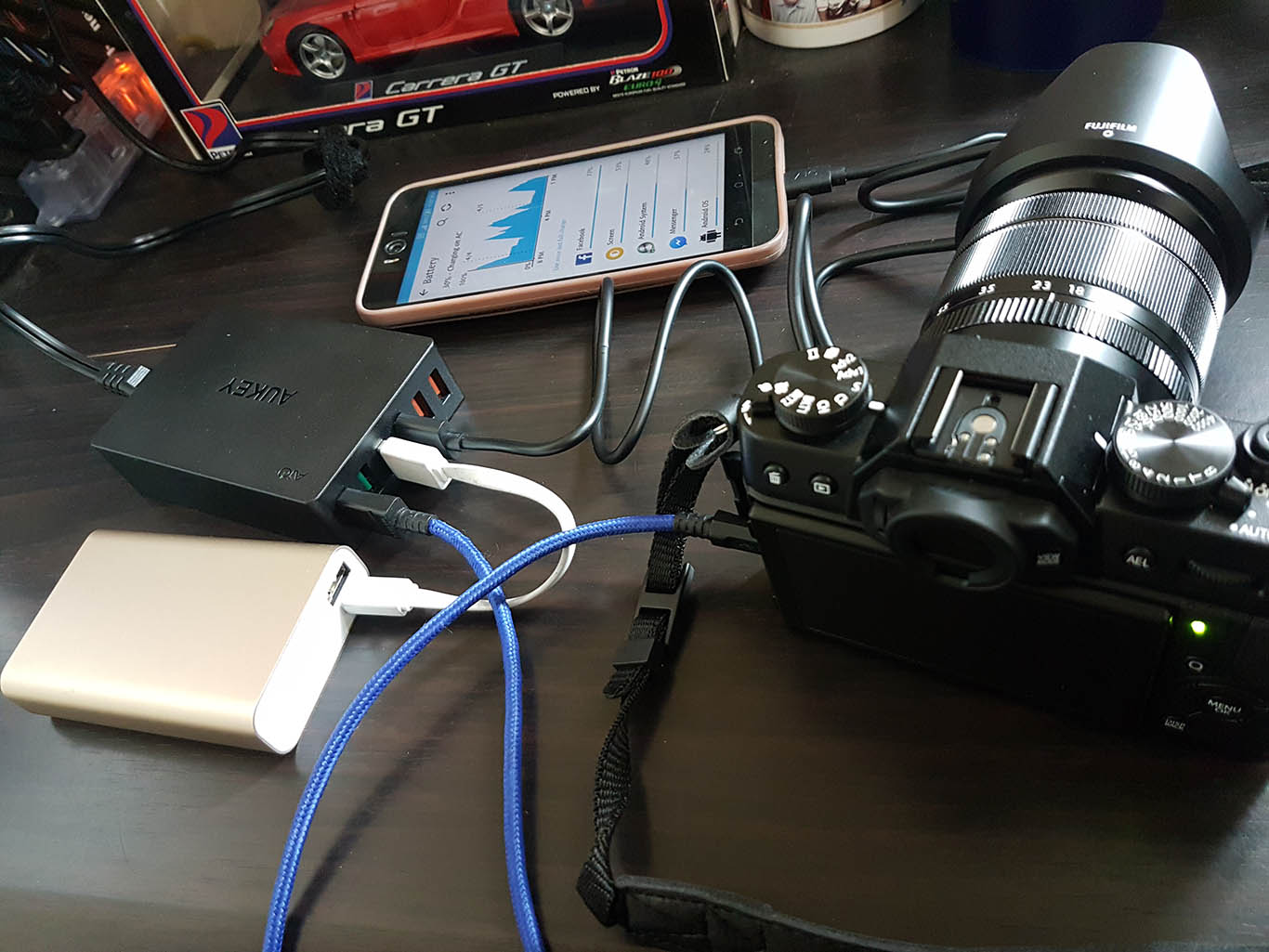 SPECIFICATIONS
Model: PA-T11
Technology: AUKEY AiPower and Qualcomm Quick Charge 3.0
Input: AC 100-240V 50/60Hz 1.5A Max
Output 1-4 (AiPower): DC 5V/9.6A (Max), each port 2.4A max
Output 5-6 (QC 3.0): DC 3.6V-6.5V/3A, 6.5V-9V/2A, 9-12V/1.5A
Dimensions: 103 x 71 x 26mm / 4.1 x 2.8 x 1 inches
Weight: 206.8g / 7.3 ounces
Warranty: 1-yea
Price: Php 3,149.00
WHERE TO BUY
The AUKEY 6-Port 60W Wall Charger with QC 3.0 is distributed by Spitze Trading and is now available in selected stores of Power Mac Center, Elecom, Urbanize, Bratpack, iStudio, Astrovision, Astroplus, Odyssey, UrbanGadgets, Mobile 1, Gadgets in style, Globe, iGig center, Youpoundit, Lazada, Takatack, Technoholics and Tackthis!
AUKEY 6-Port Wall Charger Review
The AUKEY 6-Port Wall Charger does an amazing performance and packed with the latest technology that is reliable and very convenient. With the available 6-port USB it's an ideal solution if you have several devices such as a smartphone, power bank, iPad or camera if you need to charge them all in an instant. Großes Multi-Port Wand-Ladegerät von AUKEY! (Great Multi-port Wall Charger from AUKEY!)
95%
Reliable Multi-Port Wall Charger
Pros: 
Solid Build. Compact Size. Value for Money. Amazing Technology (AiPower, Quick Charge and Entire Protect). 
Cons: 
No  pouch to put on the stuff if you need to carry it. Replace the included micro USB cable with a 2-in-1 Universal USB charger cable for iPhone and Android phones.
6,280 total views, 2 views today