We just got our hands on one of the best gaming monitor from Lenovo. The Lenovo Legion Y25g-30 was just released last year which boasts some features that can enhance gaming performance especially for eSports players. You have a nice display, higher refresh rate, fully adjustable monitor stand, numerous ports and more.
We had the Y25g-30 for almost a week now and we wanted to share our thoughts or first impressions about this amazing gaming monitor.
The Lenovo Legion Y25g-30 gaming monitor is now available for PhP 32,995 in authorized Lenovo Legion concept stores and authorized resellers nationwide.
So, let's dive in on the Lenovo Legion Y25g-30.
Unboxing
Packaging of the Lenovo Y25g-30 gets a simple brown corrugated carton box with text and images printed in black. Inside the box you have the following contents:
Lenovo Gaming Monitor Unit

V-Shaped Metal Base

Metal Stand

Power cable

DP cable

USB Type-A to USB Type-B cable

120W Power Adapter

Quick setup guide

Warranty booklet

Factory Calibration Report
You can watch our unboxing and how we set up the  Lenovo Legion Y25g-30 monitor below on our YouTube channel.
Full Specifications
Here is the full specs on the Lenovo Y25g-30.
Price: PHP 31,995
Panel Size: 24.5-inch
Screen Dimensions: 552.5 x 319.6mm
Panel Type: 3-side NearEdgeless In-Plane Switching
Active Area: 543.1 x 302.6mm
Backlight: WLED
Aspect Ratio: 16:9
Resolution: 1920×1080
Dot/Pixel Per Inch: 90
Viewing Angles: 178 degrees
Response Time: 1ms, 2ms, 3ms, 4ms, 5ms
Refresh Rate: DP 1.4 360Hz / HDMI 2.0 240hz
Brightness: 400 cd/m2
Contrast Ratio: 1000:1
HDR Decoding: Yes
Color Gamut: 99% sRGB
Color Support: 16.7 million
Color Depth: True 8-bit
Adjustment: Tilt, Swivel, Lift 130mm and Pivot 90-degrees
Connectivity: HDMI 2.0, DP 1.4, 3.5mm Jack, USB 3.2 Gen1 Type-B, USB Type-A, USB Type-C
Multimedia: Integrated Speakers 3W
Power Consumption: 35W/115W
Power Supply: External
Voltage Required: AC100 to 240V (50-60Hz)
Bezel Width: 2.0mm (side), 2.0/22.5mm (top/bottom)
Bezel color: Raven Black
Weight (Monitor): 4.1kg
Weight Unpacked: 6.1kg
Certifications: CCC, RoHS, Windows 7 & 10, TUV Rheinland Low Blue Light & Flicker Free, China Energy Efficiency Standard
Special Features: NVIDIA G-Sync, NVIDIA Reflex Latency Analyzer, E-sports mode, RGB Lighting, Factory calibration, Lenovo Artery (Lenovo Display Control Center), Kensington Lock slot, VESA mount capability, Headphone hook, Cable management
Design and Build Quality
The Lenovo Legion Y25g-30 is clad in a nice elegant black color except for the V-shaped base that has a blue color at the bottom. The display monitor is made of durable plastic material while the leg and stand are made of metal that makes it more secure and does not wobble on the table. Together with the monitor, leg stand and base it weighs around 13.4 lbs.
The metal leg can easily be attached to the V-shaped base with the built-in screw using it only by hand.
On the back cover of the monitor you have a metal nameplate Lenovo logo on the left side. A long rectangular shaped block with a circular perforated design at the center holds the various ports, two speakers and a translucent plastic Legion logo. The Legion logo also has RGB lighting that can be controlled via the Lenovo Display Control Center.
Legion Logo with RGB Lighting
The stand of the monitor is adjustable you can slide up/down, swivel (30-degrees), tilt (- 5-degrees to 22-degrees) or rotate the display 90 degrees into a vertical orientation which allows you to fit two windows instead of one. At the back of the stand you have provision for a cable management.
Should you wish not to use the stand, it has a standard VESA mount capability (100x100mm).
Meanwhile, the front panel has thin bezels almost completely frameless except for the chin at the bottom gets a bit thicker. On the bottom right of the display are 8 buttons for the navigation settings for the menu, volume control, power and an LED light indicator. There's also a Legion logo on the center just for branding purposes. Lastly, located on the left side of the monitor is a headphone hook.
Controls on the bottom right corner
Display
The Lenovo Legion Y25g-30 gets a diagonal panel size of 24.5-inches in Full HD using an 8-bit IPS panel with LED backlighting and a pixel density of 90 dpi only.
The display features a matte anti-reflective coating material making it good to look at in any angle you view it and even protects against ambient light sources in your area.
It has a resolution of 1920×1080 pixels, an aspect ratio of 16:9, peak brightness of 400 nits, 99% sRGB color gamut and a contrast ratio of 1000:1
You get a maximum refresh rate of 360Hz using the Display port only while 240Hz on the HDMI port which is enough for any eSport gamer.
Get a smooth visuals with its built-in NVIDIA G-Sync by syncing the monitor's refresh rate with your PC's graphics card minimizing screen tearing, stuttering, latency and ghosting especially during fast-paced games or video. It also has a Reflex Latency Analyzer for measuring monitor performance and tuning it before the game starts letting you minimize system latency.
On the Y25g-30 you have an option to select 4 levels of response time: 4ms Level 1, 3ms Level 2, 2ms Level 3 or E-sports, 1ms Level 4 and 5ms in "Off" mode.
While you're all day playing games for over long periods of use on the monitor. The Y25g-30 have been certified by TUV Rheinland for low blue light and flicker free that protects you from blue light emissions.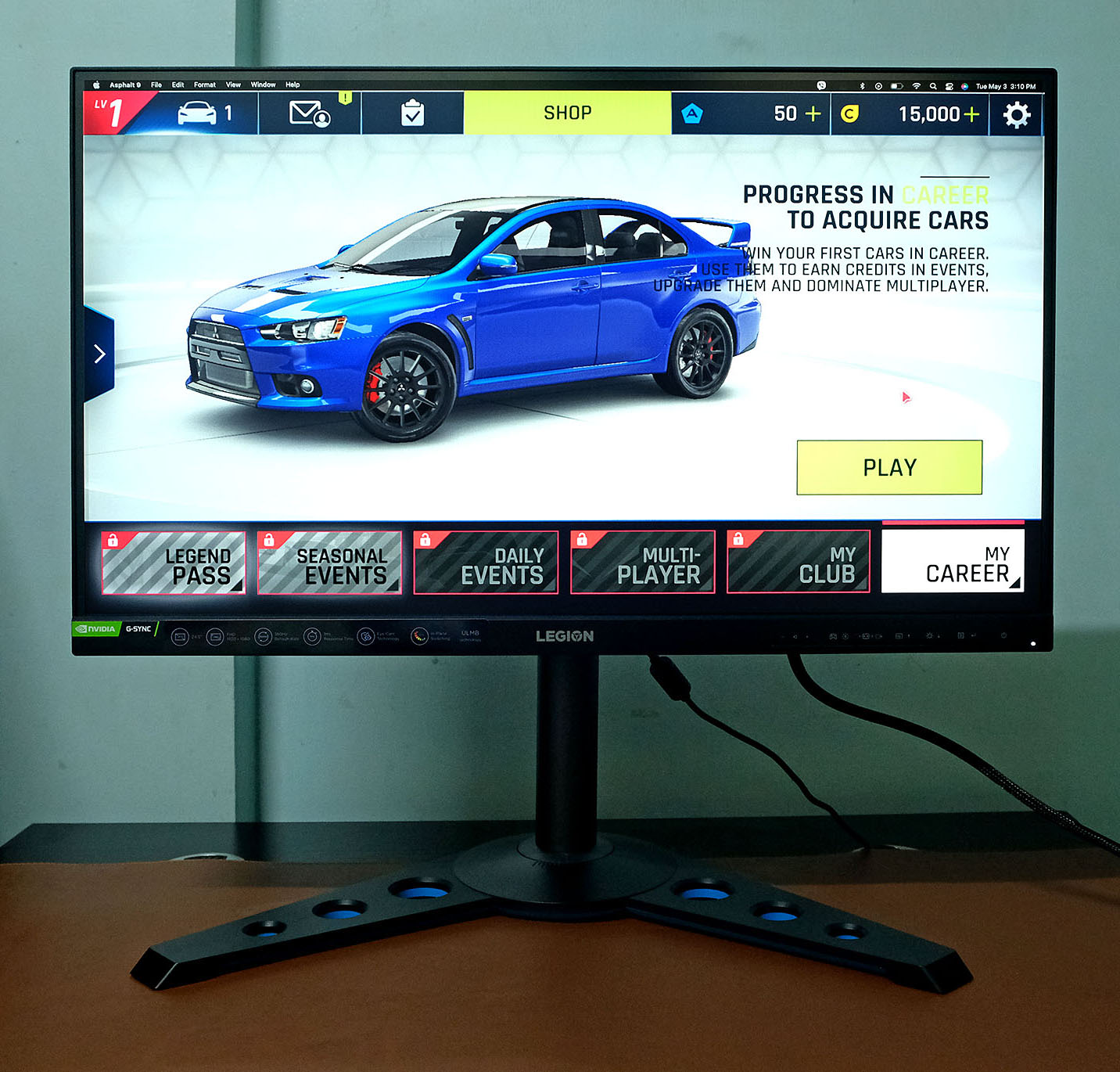 Ports and Sound
The Lenovo Y25g-30 has a number of ports all located at the back cover. On the left side of the back cover you have 3x USB Type-A and a 3.5 mm headphone audio output.
While the other inputs are found at the bottom of the back cover divided into two small blocks which comprises 2x HDMI 2.0 with 240Hz support, Display Port 1.4 with 360Hz support, Charger socket and Type-B USB 3.0.
The monitor has two integrated speakers with a power of 3 watts each underneath the back cover separately. The built-in speakers may not be at its best with less bass but vocals are clear enough.
Navigation Settings Menu
Here are the various navigation settings on the Lenovo Legion Y25g-30 that you can control to adjust or activate the various features of the monitor.
First Impressions
The Lenovo Legion Y25g-30 can be an excellent choice for those looking for a gaming monitor especially if you like to enhance your Esports performance. The color quality, quick response time and 360Hz refresh rate are excellent. The speed and response were not a problem as well. We would consider that the Lenovo Legion Y25g-30 will be an excellent choice for gaming.
The display has nice viewing angles although the level of brightness is decent but you do have 90% sRGB color gamut for that nice vibrant color.
Aside from being a gaming monitor, I find the Lenovo Legion Y25g-30 would also be perfect for work as a secondary monitor especially for creative artist as the wide display can be in a 90-degrees vertical position to accommodate more of my windows or programs on the monitor.
The Lenovo Legion Y25g-30 is one notable gaming monitor that delivers Full HD display with nice colors, incredibly smooth and quick responsive on your gameplay.
We would recommend on future upgrades to change the placement of its controls either on the sides or below the display panel to be concealed instead at the front. On the ports it doesn't support any USB Type-C like my Macbook Pro, it's just a coincidence that I have the latest Macbook model that comes with an HDMI port. But for PC laptops this will be not much of a problem.
If you're not too keen on some of the shortcomings of the device and have the budget on hand then we would recommend the Lenovo Legion Y25g-30.
1,739 total views, 2 views today