On April 22, people will commemorate Earth Day to support its global awareness and inspire millions of individuals to take action to protect the environment. Many companies large and small are taking part on Earth Day to get more people involved thru sustainability programs or product innovation to have a dedicated stance toward environmental awareness.
Committed to create sustainable products and eco-friendly alternatives, the leading toothpaste brand in the country, Colgate is joining on Shopee's Shop Green Campaign to encourage Filipinos to support and use organic materials as steps towards making a better and healthier planet.
Shop Green is an online sale by Shopee starting from April 19 to 25, Colgate is offering up to 30% off on its selected eco-friendly products. Among the selected products from Colgate are its latest all-natural toothpaste and recyclable toothbrush.
Colgate Naturals Toothpaste
Colgate Naturals is one of the brands latest line of toothpaste that are now organic, vegan, gluten-free products with no preservatives, artificial flavors, sweeteners or colors. There are two available all-natural toothpastes you can choose from Colgate Naturals Turmeric and Colgate Naturals Himalayan Salt. Both of the new ingredients found in Colgate Naturals toothpaste offer amazing benefits for your teeth.
The Colgate Naturals Himalayan Salt protects your gums and leaves your teeth healthy white. As we all know that gargling with salt water can aid in the healing of sore throats and other mouth pain. Salt water can neutralize acids in your mouth caused by harmful bacteria, which helps keep a balanced pH level in your mouth. Inclusion of Himalayan salt as an added ingredient in toothpaste can further assist in removing bacteria from the teeth and gums, which helps in preventing the buildup of plaque and tartar.
The Colgate Naturals Turmeric on the other hand can help improve gum health, removes plaque and bacteria. The turmeric will not spice up your smile but can be beneficial for your oral health. According to The National Library of Medicine, turmeric possesses anti-inflammatory, antioxidant, antibacterial, antiviral, and antifungal properties and can prevent and treat gingivitis.
Colgate Eco-Friendly Toothbrush 
Colgate is now introducing two new environmentally friendly toothbrush designed to take care of your smile as well as the earth.
Colgate RecyClean is a new and first-ever toothbrush with a 100% recycled plastic handle made with food grade recycled plastic. It's designed for that deep clean and compact head for better reach plus it uses 100% plant-based nylon bristles.
Colgate Natural Bamboo Charcoal toothbrush is made from 100% biodegradable sustainably natural grown bamboo and the handle has been coated with beeswax to minimize water absorption and improve durability. With Charcoal infused floss-tip bristles for a deep and gentle clean.
Eco-Friendly & Responsibly Made Products
To reduce the use of plastic and to help save the environment, Colgate started to switch to a first-of-its-kind recyclable toothpaste tube, eco-friendly toothbrush, as well as using recyclable materials for its packaging.
Common production of toothpaste tubes is made from sheets of plastic laminate which is usually a combination of different plastics and often filled around a thin layer of aluminum making it impossible to recycle.
Colgate now made the impossible, possible as it uses fully recyclable tubes by choosing high-density polyethylene (HDPE) or known as the No. 2 plastic used to make milk jugs and other plastic bottles. The material was too rigid to make a squeezable tube, but Colgate engineers figured out a way to combine different grades and thicknesses of HDPE laminate to make a toothpaste tube. The new recyclable tube meets recycling standards and protects the product.
For Colgate toothbrushes, the company are now using 100% recycled plastic handle made with food grade recycled plastic, natural organic materials such as bamboo and 100% plant-based for its nylon bristles.
Aside from the recyclable tube and toothbrush, Colgate is currently using recyclable cardboard material for the packaging box of their toothpaste and toothbrush. They are now environment friendly with no plastic lamination or those shiny red foil effect on their logo. The company has made its packaging another one of their top priority to eliminate plastic waste to save our Mother Earth.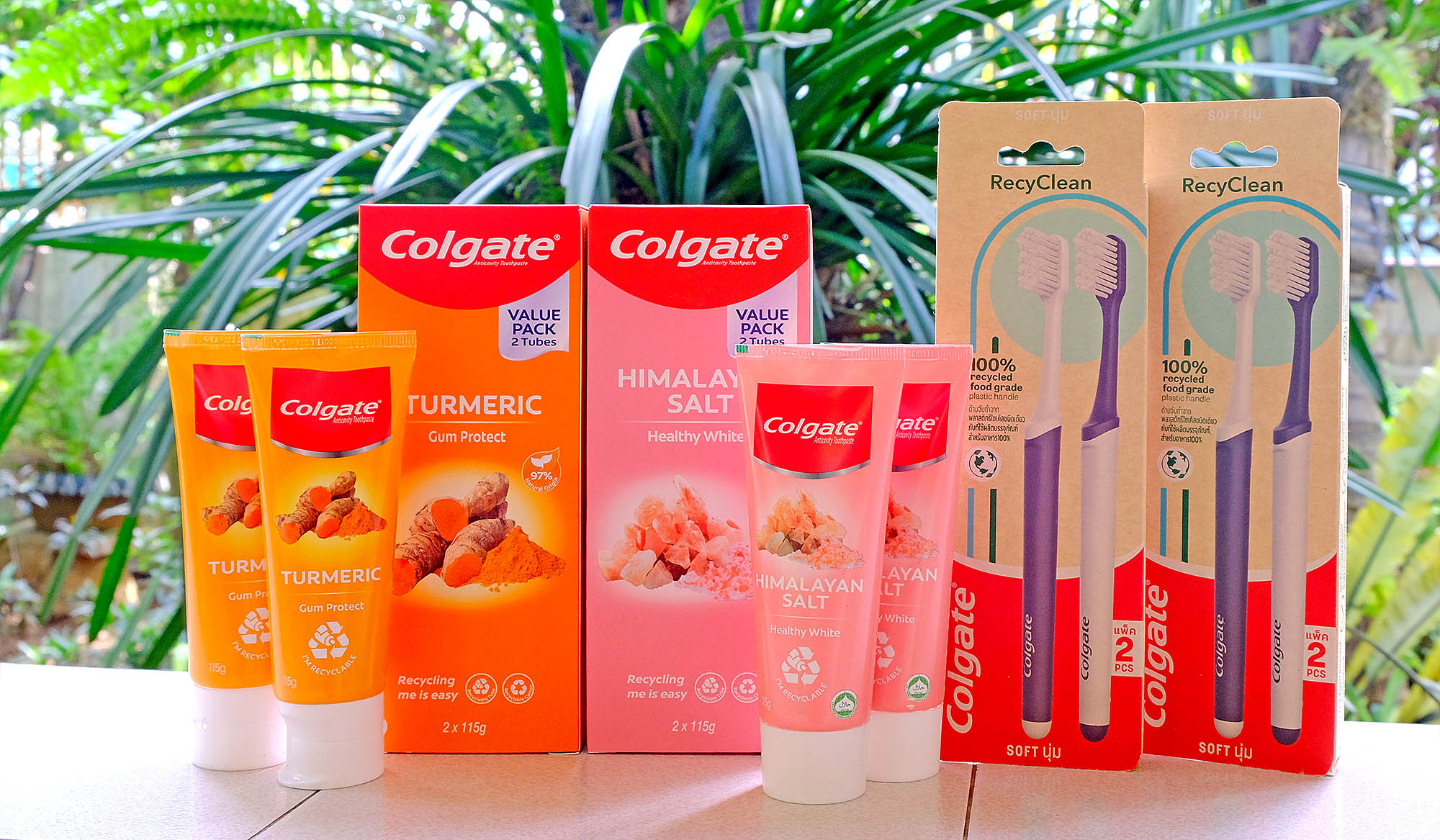 Why switch to these sustainable alternatives?
By switching to these new alternatives now offered by Colgate, we are contributing our part to protect the planet as well as the health of our love ones. But more importantly we are saving the planet for the future of our kids.
Now is the right time! Let's do our part to participate and celebrate Earth Day on this major international effort to drive action among the community by buying recyclable products.
Let's support Colgate and Shopee on its Shop Green campaign, simply visit their shop now: https://shopee.ph/m/shop-green
You may also click on the Colgate item below and add to cart right away:
512 total views, 10 views today