During the recent VST ECS CXO Tech Summit last October 20, we attended a breakout session of Neat, a leading Norwegian video technology company providing innovative workspace solutions, offering a range of devices designed to aid companies in creating flexible work environments.
Guest speaker Mr. Niko Walraven, Regional Director APAC of Neat shares on his presentation with the attendees that for a hybrid work strategy to be successful, organizations should plan to invest in video enablement solutions making it one of its top priorities. Employees should have access to high-quality clear audio and easy-to-use video meeting solutions, no matter where they work.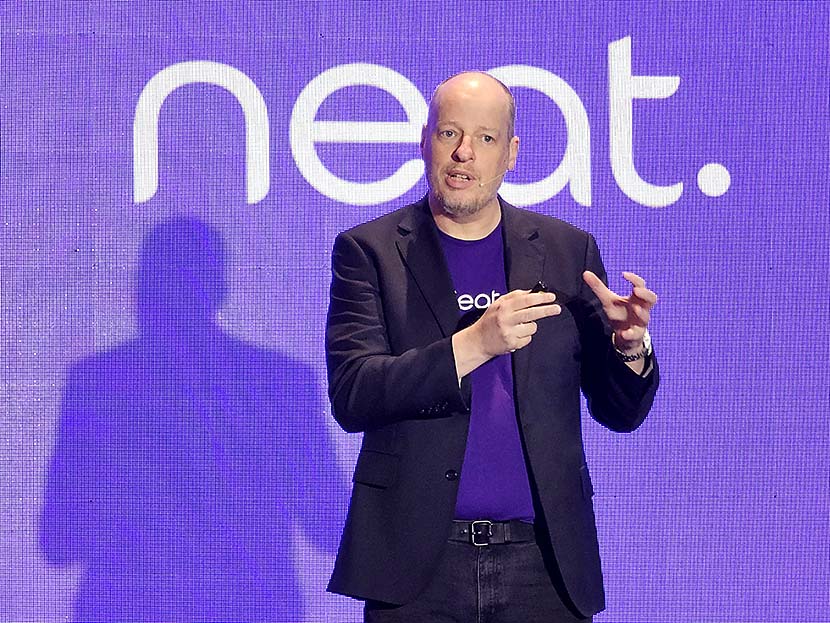 Niko Walraven, Regional Director APAC of Neat
This is where Neat steps in by providing a diverse range of products that seamlessly adjust to meet the needs of the modern workforce. Whether you find yourself in an open office, compact meeting areas, workshops, training rooms, or spacious conference facilities, Neat has you covered, accommodating various work styles and spaces.
Neat can run virtual meeting applications such as Zoom, and Microsoft Teams which are commonly used by other users and organizations.
Here are the products presented by Neat and why companies should consider using these devices to enhance the organization's workspace flexibility.
Neat Frame
The Neat Frame is an all-in-one video device designed for desktop use, featuring a 15.6-inch portrait-oriented touch screen feature with compatibility from video conferencing platform like Zoom and Microsoft Teams.
It automatically frames you with its high resolution 113-degree field of view and 4x digital zoom whether you're sitting, standing or moving around. 
It produces a superior-quality audio thanks to its front-facing tweeter and woofer giving you a rich reproduction of people's voices.
Neat Bar and Neat Bar Pro
The Neat Bar is a great conventional soundbar for bringing fantastic audio and video quality to your flexible workspace meetings.
The device has a slim form factor that's packed with a 12MP HD camera of high capability with 4x digital zoom and a 120-degrees Horizontal Field of View (HFOV) to see more of what is in front.
With its acoustic ultrasonic sensor system the Neat Bar automatically wakes up when it detects the presence of people in your room.
Other features on the Neat Bar is a 5 mic array, wide angle tweeter, opposing drivers and you can mount it above or below one or two monitors.
Included along the Neat Bar is the Neat Pad a compact and versatile touch screen device using it as your controller to quickly start your meetings and share your screen with just one tap. 
The Neat Bar Pro offers the same capabilities of the Neat Bar but it is equipped with a more powerful Pro 100 MP camera system that comprises a 50Mp wide cameras and an image depth sensor. The camera can go as far as up to 16x digital zoom.
It can further support up to three monitors for areas with a larger space. The Neat Pad is also included in the package.
Neat Board 50
The Neat Board 50 is a cutting-edge interactive whiteboard ideally suited for hybrid work environments from boardrooms to educational institutions, that revolutionizes the way teams collaborate and engage with content.
It features an impressive 50-inch 4K Ultra HD display, intuitive mulit-touch interface, compatible with various video conferencing platforms, and a 4x digital zoom. 
With the built-in end-fire mic array feature it uses advanced differential beam-forming with five microphones angled for optimal audio pick up within camera view. 
It offers users to do wireless content sharing, annotations, and and manipulate content in real-time for a productive brainstorming sessions and enable remote access for participants to contribute effortlessly.
Neat Board
The complete package in a simple and elegant all-in-one device. Enjoy a 65' multi-touch LED screen, a powerful 5 mic array audio system, and a versatile 120-degree wide-angle camera with 4x digital zoom. You can even use the screen to annotate and white-boarding for the best collaboration or social interaction experience.
Neat Center
The Neat Center is a companion device that provides as a central hub of productivity and connectivity in the modern workplace. The device works well in conjunction with its Neat Bar Pro, Neat Bar, or Neat Board. 
The Neat Center offers a 360-degree 3x lens camera, 16x omnidirectional mic array, and an advanced AI with Neat Symmetry which analyses the room and meeting attendees and frame them closer and evenly.
The Neat Center's flexible design allows to be placed wherever it is most needed within any meeting space. You can place it on the table, mount it or even hang it above the room.
Other innovative features you'll find on the Neat products:
Neat Symmetry – It automatically frames everyone in the meeting room equally up close whether they are sitting, standing or moving around.
Neat Audio – It uses an advanced AI technology to enhance human voice pickup and filter out distracting noises in the background like fans or keyboard clicking.
Neat Boundary – It removes the worry of being distracted by other activities happening around you by setting a designated width and depth of your area.
Easy Setup – You can immediately setup any Neat products faster with a simple setup and installation guide that comes in the box.
Neat Pulse Remote Control – A managing platform to view and control your Neat devices from remote locations.
With Neat's workspace solutions it brings in a new level of innovation and convenience for companies looking for a product that could easily integrate into their existing flexible working style.
It also makes these Neat devices an ideal choice for companies looking to enhance or transition into flexible working spaces. Furthermore, it also enhances employee satisfaction and be more productive as they are well-equipped with modern and innovative tools in a flexible work arrangement.
For more information, visit https://neat.no/devices/ and https://www.vstecs.com.ph/.