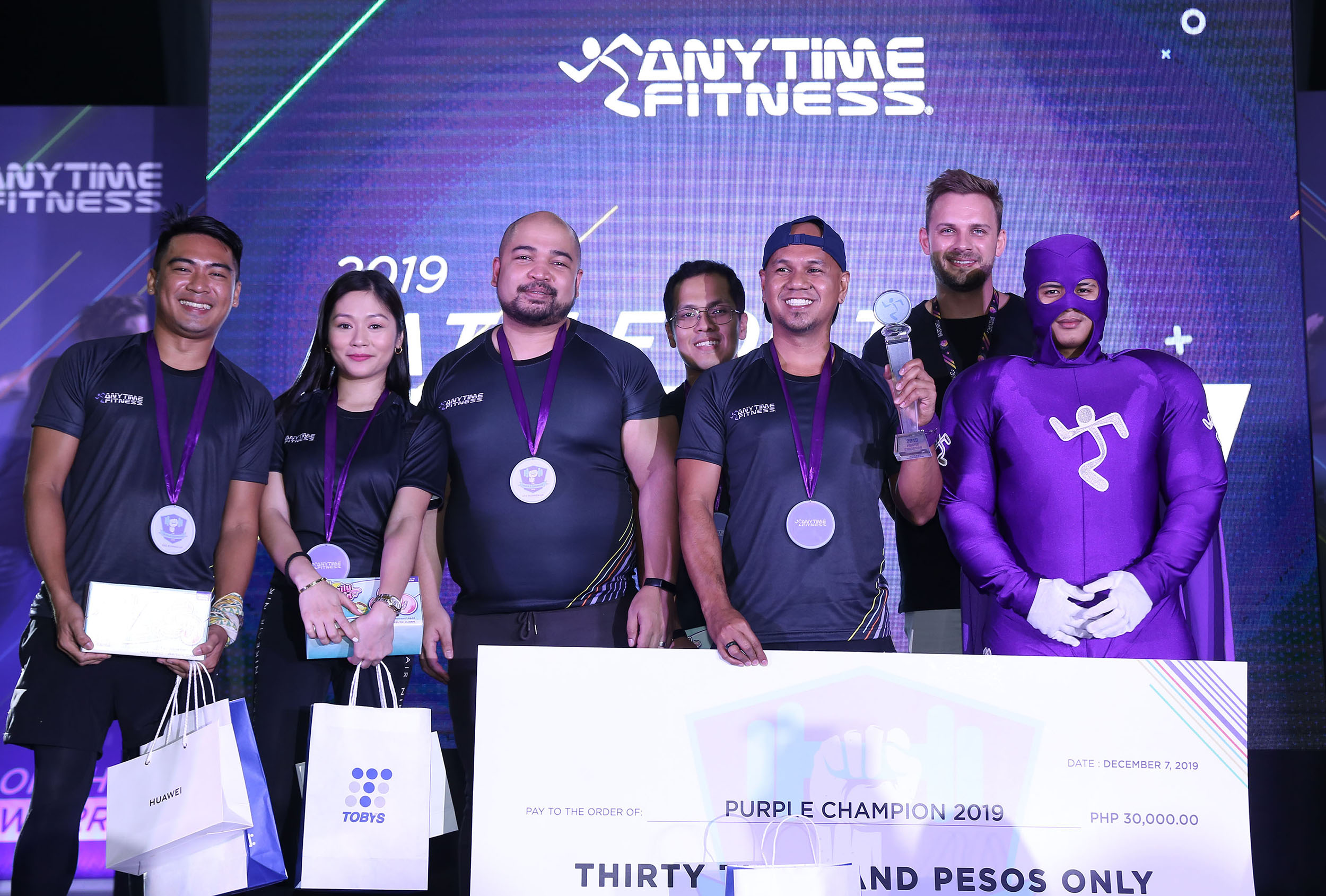 After its 3-month campaign, Anytime Fitness, throws their biggest Battle of the Purple Warriors event held last December 07, 2019 at the Music Hall, SM Mall of Asia. The annual Battle of the Purple Warriors gathered six contending teams from different Anytime Fitness branches across the country.
An inter-club competition facilitated by Anytime Fitness, its is a one-day event dedicated for the toughest members and coaches vying for the top honor. This year, six qualifying teams from AF Ecoland, AF Santa Rosa, AF Bacoor, AF Shaw Boulevard, AF Maginhawa, AF Cubao, battled it out in an exciting series of challenges and obstacles ending in a bittersweet final round.
Anytime Fitness always stays true to its brand values – to provide a safe space where everyone can be themselves without any judgments, intimidation, or discrimination. With over 4,000 gyms spanning six continents and well-maintained facilities which feature top-quality exercise equipment, the fitness behemoth has recently launched 'The Search for the Purple Champion,' a movement that aims to spark inspiration through fitness stories from Anytime Fitness' club members.
Anytime Fitness Asia's Chairman, Maurice Levine, during the event mentioned how important it is for the brand to cultivate this kind of culture. "Truly, teamwork makes the dream work. Our customers are our top priority, and same goes for our staff and members. I hope that the annual Battle of the Purple Warriors continue to inspire our club members and coaches. You are our backbone! Let's continue to make Anytime Fitness a fun and friendly environment for everyone."
The Battle of the Purple Warriors and Search for the Purple Champion was presented by My Daily Collagen, in cooperation with Huawei, Hoka One One, The Finix Corporation, Lightwater, and Red Planet Hotels.
For more details, visit www.anytimefitness.ph and Anytime Fitness Philippines on Facebook.
2,138 total views, 2 views today